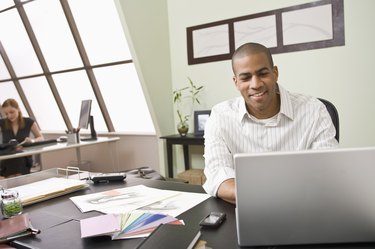 Internet Explorer comes with some security features that check for the legitimacy of a website so you can safely share sensitive data with trusted online sources. This is useful for activities like online shopping, and it is the browser's job to make sure that it safely transmits the data to the trusted site so others won't see it. These websites use digitally signed certificates so the browser can read them and declare these sites as safe. However, other websites may use third party Certification Authorities to identify themselves as safe sites. Internet Explorer may block these third party certificates, which automatically renders the site inaccessible. You can change this behavior in Internet Explorer's settings.
Step 1
Click on the "Tools" menu and go to "Internet Options" from the Internet Explorer window.
Step 2
Click the "Content" tab and then click the "Certificates" button. Keep clicking the small arrow on the upper right side of the dialog until you see the "Untrusted Publishers" tab. Click that tab once you see it.
Step 3
Click on any entries that are possibly linked to your problem and click the "Remove" button. This will let Internet Explorer trust the certificate once again.
Tip
You can also access the "Internet Options" by double-clicking the corresponding icon on the Control Panel.
Warning
Do not remove the two certificate entries both labeled "Microsoft Corporation" with a 2002 expiration date. These are default entries that Microsoft marks as fraudulent.