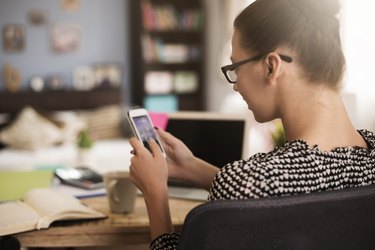 Voice Control predates the introduction of Siri and only activates when you disable or can't use Siri. Turning on Siri deactivates Voice Control, but Siri performs many of the same functions as Voice Control. If you don't want to disable all the features of Siri, you can enable Siri and disable specific elements such as the Voice Dialing feature and Web searches. After you disable these features, you can continue using Siri to make appointments and access apps on your iPhone 5 running iOS 7.
Using Siri
Step 1
Access the "Settings" app, choose "General" and select the "Siri" option. Set the Siri toggle switch to the On position to enable Siri and disable Voice Control.
Step 2
Tap the "Settings" app, select "Passcode" and choose the "Turn Passcode On" option. Type and confirm a four-digit passcode.
Step 3
Set the "Siri" toggle switch to the Off position in the "Allow Access When Locked" section to disable access to Siri on a locked iPhone.
Disabling Voice Dialing With Siri
Step 2
Select "Passcode" from the list of options.
Step 3
Set the "Voice Dial" option to the Off position. This option only shows up if you have the Siri option enabled, and it prevents Siri from calling your contacts from the Lock screen.
Step 4
Tap the "Settings" link to return to the Settings page.
Step 5
Select "General," choose "Restrictions" and enter your passcode. If you haven't yet enabled restrictions, tap the "Enable Restrictions" link and input and confirm a passcode. You can use a different passcode than the one used to secure your iPhone on the Lock screen.
Step 6
Select "Siri" from the Allowed Content section.
Step 7
Set the "Web Search Content" toggle switch to the Off position. This disables Voice Control for Web searches with Siri.