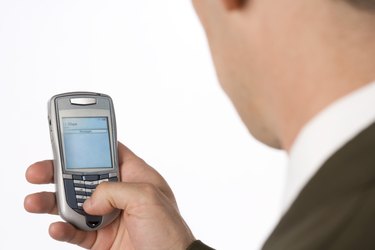 TracFone is a nationwide network of prepaid wireless phones. It uses a number of manufacturers, like Motorola, LG and Samsung, for hardware, then programs these phones not to work for another service provider unless an unlock code is entered. It's a standard tactic in the industry. If your TracFone customer service department isn't authorized to give you the code for free, you'll have to buy it from an online retailer.
Step 1
Write down your phone's IMEI (international mobile device identification) number. Find it by typing "*#06#" into your phone and hitting "Send." It might also be on a label under the battery.
Step 2
Get your unlock code one of two ways. First, call TracFone. Give the rep your IMEI number, and you will be told whether an unlock code can be provided. If you're not eligible, navigate to one of several online unlocking services. Enter your phone's model and hit "Unlock My Phone" or some such equivalent. The site will ask you to identify your current service provider. This will typically indicate how much unlocking a TracFone will cost. This number can vary from $9.99 to $39.99 as of 2010, depending on the type and age of the phone, as well as the network you're leaving.
Step 3
Remove your TracFone SIM card. Put the battery back in and turn on the phone. Enter the unlock code when prompted. A message will appear to tell you if the code was accepted.
Step 4
Remove the battery and insert your new carrier's SIM card. Reboot the phone to officially leave TracFone for a new carrier.