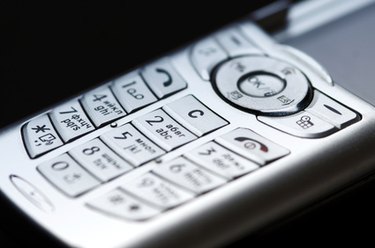 Bell Mobility is part of Bell Canada, one of Canada's largest communication companies. Bell Mobility offers cellular devices and plans for Bell customers. When customers purchase a Bell phone, the device is locked to the Bell network. After the device has been unlocked from the network, users can use the phone with other service providers, such as Telus, another major mobile phone company in Canada. Telus phones are not usually SIM card operated, so before unlocking your Bell SIM card phone make sure you can use your Bell device with TELUS.
Step 1
Look at your Bell Mobility contract or other documentation that came with your phone to determine the make and model of your device.
Step 2
Find an online service that will unlock your phone online using a code, such as Unlockscope.com or thetravelinsider.info. You can find other online providers by searching "unlocking," "codes" and your phone's model name in a search engine.
Step 3
Select your model and phone type on the online unlocking service website of your choice. This will usually be done via a drop-down list or manually typing the model of your phone into a search box.
Step 4
Provide the online company with your contact information, email and the Bell phone's IMEI serial code, which can be found near the battery or SIM card. This is needed to unlock the device, as it functions as an identification code.
Step 5
Check your email to receive your unlocking code. Depending on the service you have used, the wait can range from a few hours to a full day.
Step 6
Call the code on your phone, like you are calling someone. A message will sound that you have unlocked your device successfully.
Step 7
Contact Telus to activate your phone on a Telus account or insert your Telus SIM card into your Bell device, if you already have a SIM card from Telus.