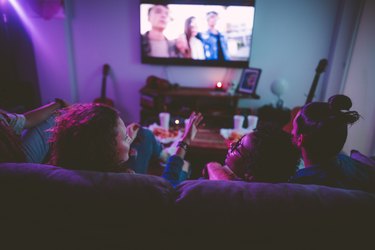 Japanese manufacturer Sharp was one of the companies that helped make LCD TVs a force in the marketplace, and its Aquos line has been a popular series of TVs for many years. Currently, Sharp itself doesn't manufacture the Aquos TVs sold under its brand in North America. The brand is licensed instead to Chinese manufacturer Hisense, which offers a full line of up-to-date TVs with all the latest features. If you own one of these Aquos sets, regular firmware updates give you all the latest features and help keep internet-connected TVs secure.
Automatic Sharp TV Firmware Update
Current sets from most manufacturers, including Sharp, are set by default to automatically update their onboard software or firmware without you lifting a finger. This is the most secure way to do things because often those updates are intended to protect you from newly discovered security flaws. They may also give your TV new features or fix annoyances you may have with the existing features as the software is refined over time.
Most Sharp sets check for updates whenever they're turned on and then install the updated software in the background without you noticing. Depending on the update and your model, you may be prompted to restart your TV so the updates can take effect.
Manual Update for Aquos
If you know there's a Sharp TV software update ready to be applied and don't want to wait for the TV to get around to it on its own, you can install it manually. On most current models, you do that in the Settings menu.

Press the "hamburger" menu button on your remote, the one that looks like three horizontal lines stacked on top of each other. Use the remote's D-pad to choose Settings, then press OK. Go to Support and Check Software Upgrade. If there's an upgrade available, it shows on the screen. Select it with the remote and press OK to install.
Manual Update for Android TVs
Some current models in Sharp's lineup are Android-based, so the usual Sharp TV software download process doesn't apply. On an Android set, open the Settings menu with your remote and then scroll down to the About option where you'll see an option called System Update; choose it to continue.
As with sets running Sharp's own TV software, Android-based sets typically take care of their own updates.
Manual Update for Roku TVs
Another group of Sharp's current models is based around the Roku platform rather than Sharp's built-in software. Several manufacturers offer Roku-based sets because it saves them the costs of developing and maintaining their own code. It's also a bonus for consumers because Roku TVs from different manufacturers have the same features and menus. If you buy a Roku-based Sharp TV for your living room and a different brand for the den or bedroom, you won't need to learn two completely different sets of menu options.
To update a Roku-based Sharp, go to Settings, System and System Update. You'll see an option to Check now. When you select it, you receive a message that either your system is up to date or that an update is available. Follow the on-screen instructions to install it.
TV Must Be Connected
For the automated or manual updates to work, your TV must have a live internet connection. Most models give you the option of connecting wirelessly or with an Ethernet cable. A wired connection usually works without needing any setup on your part. For a wireless connection, you need to choose the correct network and enter your Wi-Fi password to get started.