If you're tired of juggling remote controls, you can eliminate at least one by programming your Dish Network remote to operate your Samsung television. You don't even need the manual to search for programming codes. Program the Dish Network remote by using the code-scanning feature. You can use the same method for programming the remote to control a VCR or other auxiliary device.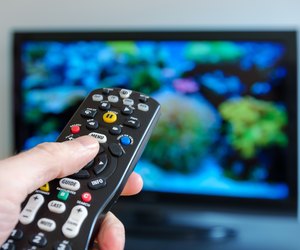 credit: Marc Bruxelle/iStock/Getty Images
Step
Turn on your Samsung TV. Press and hold the "TV" button on the Dish remote control until the AUX, TV, SAT and VCR buttons light up.
Step
Release the "TV" button and the other buttons will go out while the TV button blinks.
Step
Press the "POWER" button on the remote and the TV button will stop blinking and stay solidly lit.
Step
Point the Dish remote at the TV, and press the up arrow button. Press and release the button until the TV turns off.
Step
Press the "#" button on the remote keypad to set the code.
Step
Test the remote by pressing the volume up or down buttons. If the TV responds, the remote has the correct code. If not, repeat the process until you find the correct code.