Most Vizio flat screen TVs come equipped with micro computers inside them. Occasionally, Vizio updates the firmware, which operates the central processor in these units. Generally, the firmware update occurs automatically; it downloads over your Internet connection and notifies you that a firmware update is taking place. In some older TVs, you are notified by email that this process must be done manually.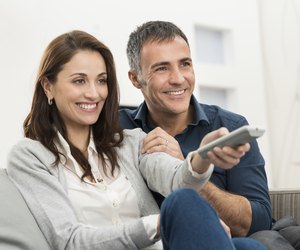 credit: Ridofranz/iStock/Getty Images
Firmware Upgrading Process
If your Vizio TV does not upgrade automatically, format a thumb drive for FAT32 files on your computer. On the Vizio Support website, find your TV model and upload the firmware update to the thumb drive. Name the uploaded file according to the directions on the Vizio support page. Unplug your Vizio TV and insert the thumb drive into the USB port on the side or back of the set. Plug the unit back into the wall and turn on the set. The firmware file should load and update automatically. If you are asked for permission to continue, use the remote control to confirm. When the upload completes, unplug the unit, remove the thumb drive, plug in the TV and turn on the unit.