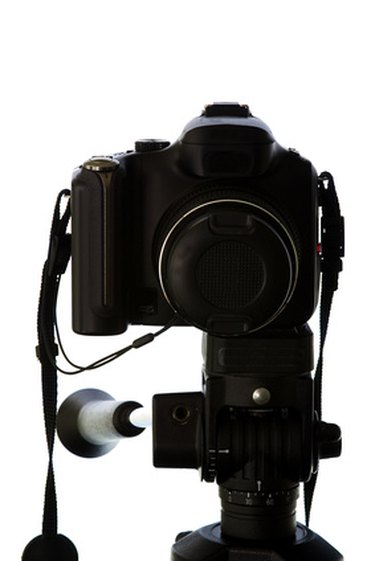 The Nikon D90 digital Single-Lens Reflex (dSLR) camera uses the ML-L3 wireless remote shutter release. A wireless remote allows you to take self portraits or to reduce camera shake by operating the shutter release without physically touching the camera. The ML-L3 wireless remote has a range of approximately 16 feet and when the camera is set for auto-focus, the ML-L3 will allow the camera to focus before a photograph is taken. The built-in flash as well as optional speed-flash units will work (when attached to the camera) with the wireless remote.
Step 1
Mount the camera on a tripod or place it on a level, stable surface such as a table top or counter. Select remote operation mode by depressing and holding the small button (this button has a multiple file folder icon printed on it) located directly in front of the AF button, located on the top, right-hand side of the camera. Change selections by rotating the main command dial located on the top, right-hand back side of the camera body. You can view this selection within the LCD located on the top, right-hand side of the camera body.
Step 2
Pick either delayed remote (two second delay) or quick-response remote when selecting remote operation (The icon will display within the LCD located on the top of the camera). The time shutter release shows the remote icon with a clock face while the immediate shutter release shows only the remote icon.
Step 3
Compose your photograph as normal and set the camera for auto-focus (auto-focus is set by moving the switch located along the left-hand side of the lens mount to AF). The camera shutter-release button (located on the top, right-hand side of the camera body) will allow auto-focus when using the wireless remote by pushing the remote button half-way down.
Step 4
Remove the viewfinder eyepiece cup by pulling it up and off. Cover the viewfinder with the supplied viewfinder cover (the DK-5 eyepiece cap is a small, black plastic rectangle that fits over the backside of the viewfinder) by sliding it down over the opening.
Step 5
Move in front of the camera, point the ML-L3 toward the camera and depress the shutter-release button on the remote. When using the delayed remote mode, you will see a self-timer lamp glow for two seconds on the front of the camera body. When using the quick-response remote mode, the self-timer lamp located on the front of the camera body will flash after the shutter is released.
Step 6
Allow the flash to re-charge when using the built-in flash or an optional speed-flash. Push the shutter-release button to take additional photographs.