Windows 8 features several accessibility features designed to make your computer easy to use. With speech recognition, you control applications using your voice. Setting up Microsoft Office 2013 to work with speech recognition is a two-stage process. First, if your computer does not have a built-in microphone, set one up. After your microphone is connected, activate speech recognition and familiarize it with your voice.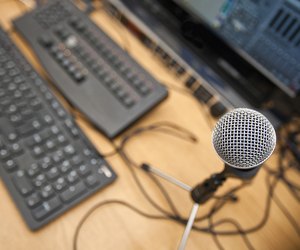 credit: moodboard/moodboard/Getty Images
Set Up Your Microphone
Step
Connect a microphone to your computer if it does not have an internal microphone. Plug the microphone into the microphone or audio input port on your computer or sound card. Consult your computer's documentation for more information.
Step
Type "Windows-Q" on your keyboard to launch the Search prompt. Type "Set up a microphone" in the search field and press "Enter."
Step
Click "Set up a microphone" in the search results and follow the prompts to configure your microphone for use. Configuring the microphone properly is essential. Office needs to be able to hear you well to interpret your verbal commands.
Start Using Speech Recognition
Step
Type "Windows-Q," enter "Speech Recognition" into the Search prompt and then click "Speech Recognition" to launch the Speech Recognition screen. Click "Train your computer to better understand you" and follow the prompts to familiarize your computer with your voice. Speak clearly and at your normal volume.
Step
Load the Speech Recognition screen again and say "Start listening" into your microphone. Issuing this verbal command while on the Speech Recognition screen initiates the voice-activated controls on your computer.
Step
Launch the Microsoft Office application you want to use and then say "What can I say?" into your microphone to see a list of commands available for the selected Office application. What you can do using voice commands varies depending on the Office application you use. In Word, for example, you can click your mouse in the body of a document and dictate text. You can also edit existing text using verbal commands such as "Select," "Correct" and "Delete."