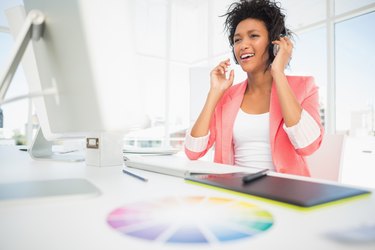 Several programs in Microsoft Office 2013 have built-in text-to-speech functionality designed to read the contents of your documents aloud. This feature is called Speak. In order to have Speak read text out loud in Microsoft Word 2013, first add the Speak button to the Quick Access Toolbar, then simply click the Speak button to initiate text-to-speech functionality at any time.
Step 1
Open Word, then click the "Customize Quick Access Toolbar" button located to the right of the Quick Access Toolbar and select "More Commands." The Quick Access Toolbar is located above the row of tabs that includes File, Home, Insert and Page Layout.
Step 2
Select the "Choose Commands From" drop-down menu, then "Commands not in the Ribbon." Click "Speak" and then "Add" to add the Speak button to the Quick Access Toolbar. Click "OK" when you are finished.
Step 3
Highlight the text you want Word to read aloud. If you want Word to read your entire document out loud, press "Ctrl-A" to select all of the text.
Step 4
Click the "Speak" button on the Quick Access Toolbar to have Word start reading your text. The Speak button is identified by a little speech bubble with an arrow.