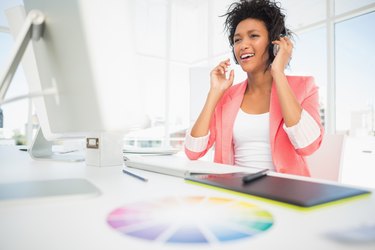 Several programs in Microsoft Office 2013 have built-in text-to-speech functionality designed to read the contents of your documents aloud. This feature is called Speak. In order to have Speak read text out loud in Microsoft Word 2013, first add the Speak button to the Quick Access Toolbar, then simply click the Speak button to initiate text-to-speech functionality at any time.
Step 1
Open Word, then click the "Customize Quick Access Toolbar" button located to the right of the Quick Access Toolbar and select "More Commands." The Quick Access Toolbar is located above the row of tabs that includes File, Home, Insert and Page Layout.
Step 2
Select the "Choose Commands From" drop-down menu, then "Commands not in the Ribbon." Click "Speak" and then "Add" to add the Speak button to the Quick Access Toolbar. Click "OK" when you are finished.
Step 3
Highlight the text you want Word to read aloud. If you want Word to read your entire document out loud, press "Ctrl-A" to select all of the text.
Step 4
Click the "Speak" button on the Quick Access Toolbar to have Word start reading your text. The Speak button is identified by a little speech bubble with an arrow.
Tip
The Speak feature is available for use in Outlook, OneNote and PowerPoint 2013 as well.
You can also configure Word 2013 to read aloud from languages other than English by installing additional Text-to-Speech engines. Visit the Microsoft Download Center (link in Resources) and download the Microsoft Speech Platform for Office 2013. Run the downloaded file and follow the prompts to install the software.
After you've installed the Speech Platform, visit the Using the Speak Feature with Multilingual TTS page on the Microsoft Office website (link in Resources), click the "Available languages" link under the Download Additional TTS Language Engines, header and download the engine for your language. Install the downloaded file and restart Word to begin using TTS in your downloaded language.