Using Parental Controls in Internet Explorer 11 is a simple way to set parameters to control when, what and how your children can access the Internet and your personal computer.
Accessing Parental Controls
Step 1
Select the Tools (keyboard shortcut, Alt-X) icon from the Internet Explorer browser window.
Step 2
Select Internet Options from the drop-down menu.
Step 3
Click the Content Tab and select Family Safety.
Step 4
Select the User Account you would like to use. This must be a Standard User Account -- not an Administrator or a Guest Account.
Tip
If you don't have a Standard User Account, create one by selecting Create a new user account. You need to name the account and provide a password.
Warning
Note of the warning that states, "As long as an administrator account has no password, any user can bypass or turn off parental controls." Follow the prompt at the end of the warning to add a password for these accounts.
Using Parental Controls
The User Controls screen provides three settings:
Time limits

Games

Allow and block specific programs.

Step 1: Time Limits
Set time limits by clicking Time limits and then left-click and drag through the boxes on the chart to dictate which times throughout the week your children can have access to or be denied use of the computer. Click OK.
Tip
As per the legend: blue is blocked and white is allowed.
Step 2: Game Options
Set game options by clicking Games. You can block access to all games, or set restrictions based on game ratings. Do this by clicking Set game ratings and then select the appropriate controls and click OK.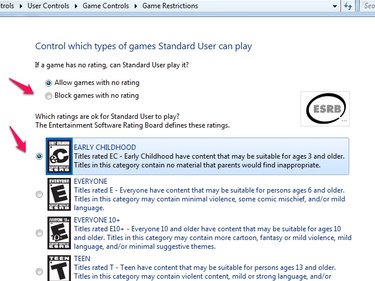 You can also control access by blocking or allowing specific game titles. Do this by clicking Block or Allow specific games. Select the appropriate controls and click OK.
Step 3: Program Options
Set program options by clicking Allow and block specific programs. Your applications may take a few moments to populate. To restrict the programs your children are permitted to use, check the radio box beside Standard user can only use the programs I allow, and the select the specific programs you want to allow. Click OK.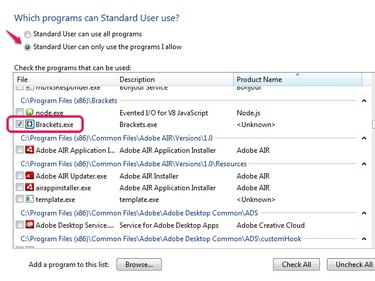 Tip
If an application you want to block does not appear in the list, select Browse, navigate to the application and add it manually.
Step 4: Final Settings
Make sure that On, enforce current settings is selected on the main screen.
Your parental controls are now set. Safety for them, peace-of-mind for you.