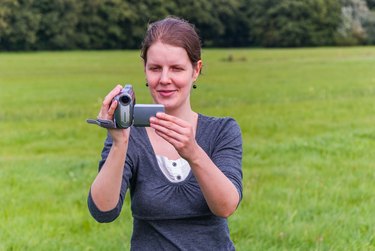 Like many digital video cameras, Sony's Handycam camcorders can be used in place of a standard webcam. There are several perks to using your Handycam in this capacity, primarily related to picture and audio fidelity -- most webcams have slightly worse picture quality than a camcorder. There are a few steps for setting up before you can start streaming using your Handycam.
Preparation and Needed Components
You'll need the USB cable supplied by Sony with the Handycam, and a functional, unoccupied USB port. You'll also need compatible webcam software, like NetMeeting, Skype or other video chat programs. Before beginning, plug your camcorder into an outlet using the supplied AC adapter -- the Handycam won't function as a webcam if it's running on its battery. Check and make sure your computer and Handycam meet all the minimum requirements of the programs you plan to use.
Driver Installation
Your Handycam includes a disc with all the necessary drivers to use your camera as a webcam. Insert this disc into your computer's optical drive and install all the drivers included. You may need to install the included camera management program as well -- this program can be useful for extracting footage from your camera, however, so it may be worth keeping.
Connecting the Camera
Connect one end of the USB cable to the computer, and the other to your Handycam. Some models feature a direct USB port, while others use the Handycam Station. For models using the station, connect the other end to the station's port. Set the camera to "Camera" or "Tape" mode using the Mode knob, then touch "P-Menu" on the screen. Touch "Menu," then select "Standard Set" and touch "OK." From the list, you can enable the camera's streaming mode by selecting "USB Camera" followed by "Stream."
Webcam Streaming
Once the stream mode has been activated, streaming with your camera is as easy as starting up your preferred chat app. Once the app is online, your Handycam should begin functioning as a webcam. Find a good place to set your camera -- unlike most webcams, the Handycam doesn't come with a built-in stand for easy attachment to your monitor.