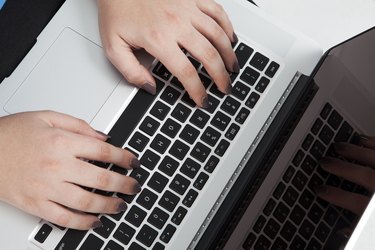 Typing Farsi in OS X requires you to first enable support for Persian languages in the Languages and Region section of System Preferences. If you have a Persian keyboard, you can also set up your computer to support the keyboard's layout. Mac OS X provides support for three different Persian keyboard layouts. When you select a keyboard layout, you can preview what the keyboard looks like before applying the preferences to make sure you select the correct one for your system. The keyboard that you select also determines the typeface options available for your use.
Step 1
Click the Apple menu and select "System Preferences..." from the drop-down menu.
Step 2
Select the "Language & Region" option in System Preferences.
Step 3
Click the "+" button, select the "Persian" option and choose the "Add" button.
Step 4
Choose an option to determine the default language used on your system. If you select the "Use Persian" option, then your entire system defaults to the Persian language. Mac OS X doesn't offer full support for Persian in all applications. If you want to continue to use your computer in English, select the "Use English" button.
Step 5
Click the "Keyboard Preferences..." button and select the "Persian" option from the sidebar. Check the keyboard layout preview. If you don't like the layout, click the "+" button and choose a different Persian keyboard layout from the list of options. When you make your selection, click the "Add" button.
Step 6
Select the option to "Show Input Menu in Menu Bar" to make it easier to switch between keyboard layouts. When you want to switch between English, Persian and other languages, click the icon in the menu bar and select the desired language from the list.
Step 7
Click the back arrow to return to the Language & Region window. Select the "Advanced..." button. Set the formatting options for your computer. You can change the Format language for dates, times and numbers so that the computer uses Persian formatting conventions. You can also change the default currency and measurement units used by your computer. Click "OK" to save your changes.