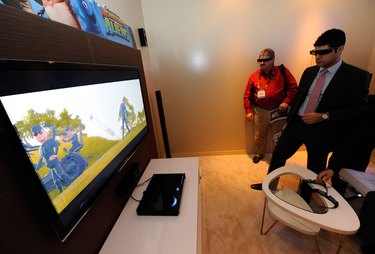 Blu-ray players are one of the many devices that bring Internet to your home entertainment center. With the right Blu-ray player you can stream video from services like Netflix and Hulu, access applications for Twitter and Facebook and even player media from your home computer. Samsung has 18 different models of Blu-ray player, each with features and specifications unique to its design. The biggest difference in Internet connection type is whether your player requires a wired connection, or can connect wirelessly to your network.
Basic Troubleshooting
Before panicking, make sure that other devices on the same network have an active Internet connection; your lack of Internet on the Blu-ray player may be related to an Internet outage. if you're connected to your router via Ethernet cable, ensure that the cable is firmly connected to both devices and that the cable is not damaged. Unplug your modem, router and Blu-ray player and leave them powered off for at least 30 seconds; then plug in the modem and router and wait for them to power up entirely before turning on the Blu-ray player and testing the Internet connection again. Make sure you're using the right wireless password in the Blu-ray player, if you're connected via Wi-Fi. Try connecting the Blu-ray player directly to the modem via Internet to see if the router is causing the stop-up.
Right Connection Type
Some Blu-ray players have wireless capabilities, while others require a physical Ethernet connection to your router. If you're hoping to connect via Wi-Fi but cannot find the function to do so on your Blu-ray player, make sure that your Blu-ray player is one that supports wireless Internet. If it does not, you may have to run an Ethernet cable to your media center. The maximum length of an Ethernet cable is 100 meters, or 328 feet, so you may need to consider rearranging if your Blu-ray player is too far from your router. You can also purchase one of Samsung's USB wireless adapters for the Blu-ray player to add wireless function to your device.
Unsupported Encryption
Samsung Blu-ray players do not support WEP passwords that are 26 characters. If you're currently using a 26 character password for your WEP network, you have a handful of options. The simplest is the change the WEP password to the 10 digit code. You can also change your router security to WPA, which is more secure than WEP and fully supported on Samsung's Blu-ray players. Make sure to change the password on your wireless devices.
MAC Filtering
If you're using MAC Address Filtering on your home network, you will need to add your Blu-ray player's MAC address to your whitelist. How you do this depends on your particular model of wireless router; on Linksys routers this feature is available a "Wireless MAC Filtering" under the Wireless menu. When you run the network test on your Blu-ray player, the MAC address displays in parenthesis beside the title "MAC Address."