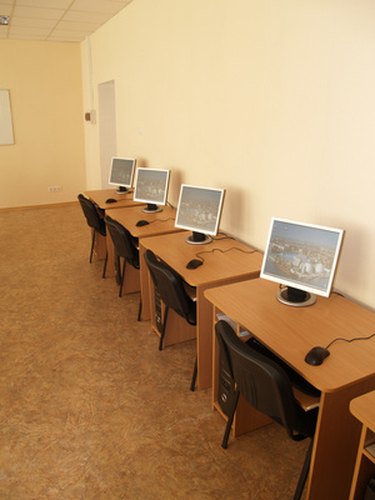 Information and Communication Technology (ICT) is important in primary education because it enables kids to search for the information they need and to organize what they have found. As children progress through the school system, they become increasingly responsible for their own learning. Many believe that ICT needs to be better integrated into curriculums so all schools produce computer literate, independent learners.
History
Prior to 1990, computers were used only in secondary schools, and in the early 1990s they were introduced in primary schools. The United Kingdom invested £9 million between 1998 and 2002 to connect schools to the National Grid for Learning. In the UK as in other places, ICT policy depended on the notion that making computers part of the curriculum would lead to better teaching and learning outcomes.
Considerations
Selwyn and Bullon's (2002) study of five primary schools found that children's sustained engagement with using computers in education was significantly affected by other factors in the classroom. Selwyn and Bullon also found that while children were quite knowledgeable about ICT, access to computers outside of school varied. According to Reynolds, Treharne and Tripp (2003) there was insufficient government investment in the development of the subject and not enough structure and support for how the subject was taught.
Benefits
ICT is a global phenomenon, and children who are computer literate at an early stage of their lives might deal better with the modern world. A sound knowledge of ICT makes it much easier for children to find and organize information. An Office for Standards in Education (Ofsted) funded study (2009) that took place between 2005 and 2008 identified good practices in the teaching of ICT. Although the ICT curriculum was sometimes poorly balanced, its use contributed to children doing better in some subject areas. The study also found that the primary school children spent as much time on computers as the curriculum allowed.
Effects
Primary school children who do well in ICT spend a lot of time going over the same ground rather than progressing. The Ofsted study (2009) found that in more than half the primary schools they visited, children did well in ICT. However, earlier work found that children did better in schools where the computing resources were good, but had lower levels of achievement when resources were fewer. This was due to social and economical factors pertaining to certain areas.
Potential
ICT is important in primary schools because it can help kids to achieve better results in other subjects and to find what they need and use information in particular ways. It is important that children become familiar with ICT at an early age, because they will need those skills for the remainder of their education and in adult life.