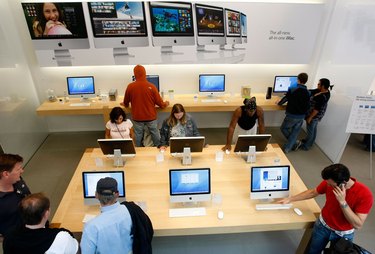 When you want to look at some photos on your Mac with the native iPhoto application, you could run into a problem with iPhoto not importing all your pictures. Apple's iPhoto enables you to organize your photos, as well as use them to create slideshow presentations, and printed books. When some of your photos don't import, you'll need to check a few possible causes.
Importing Pictures
You can import pictures into iPhoto from a variety of sources. For example, you import them from a digital camera, an iPhone, iPod or iPad that's plugged in to your Mac. You can also import pictures from a CD or DVD, an external hard drive or a USB flash drive. When you have a problem importing all your pictures, quit iPhoto, then relaunch the application and try once more. If that doesn't work, click the "Eject" button next to the name of your camera or other portable device in the left pane of the iPhoto application window, and then disconnect your device. Plug the device back into your Mac, and try to import the pictures again. If all the pictures still won't import, restart your Mac and then try using iPhoto once more.
Update iPhoto Application
If you have difficulty importing some pictures into iPhoto, it could be because you are using an older version of the application and need to update it. For example, older versions of iPhoto cannot import pictures saved in the sRAW format, which is an option some Canon digital cameras offer for saving photos, but the newest iPhoto version can handle sRaw. Click the Apple logo at the top left of the Mac's screen, then click "Software Update." If a newer version of iPhoto is available, update the application and then try importing the photos again.
Damaged Files
If some of your pictures still won't import into iPhoto after you have updated the application, restarted your Mac and plugged your camera or other portable device back in, the problem could be caused by damaged files. For example, a picture file could be corrupted or contain no data. If you are importing pictures from a CD or DVD, the disc itself could be damaged. IPhoto will provide you with a list of the files it couldn't import. Launch Apple's native Preview application and use it to try opening one of the problematic pictures. If you cannot open the picture with Preview or another image application, and cannot open it on another computer, you have more evidence that the file is damaged or contains no image data and cannot be opened. Look for a working backup copy of the photo, such as one on another CD, DVD, USB flash drive or external drive, or try downloading from a copy that you posted to a photo-hosting website.
Hard Drive Space
Sometimes, when using iPhoto, you will see an error message that says the application cannot import some pictures because the Mac's hard drive has insufficient room to copy them. Click the hard drive's icon on the desktop. Click "File" from the Finder menu, and then click "Get Info." The info window will appear, showing how much room is available on the drive. Delete unwanted files from your Mac to make room for the pictures that you want to import into iPhoto.