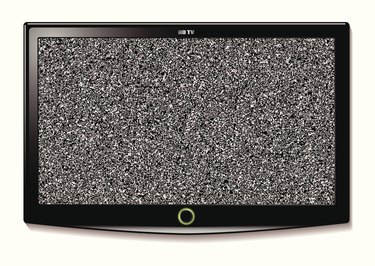 With TV stations already converted from analog to digital signals, many people still struggle to find out if their TV set works with digital signals or needs to be connected to a digital converter box. Anyone who has subscribed to cable or satellite TV or has purchased a flat-screen HD TV set in recent years does not need to worry. Many tube-based TVs may not be ready, with the set's age being the leading indicator.
Determining
The best way to figure out if your TV is ready for digital TV is to know the year you got it. Almost all TV sets purchased before 2004 will not have a digital tuner, especially those purchased before 1998. These are the sets that will most likely need a digital converter. The possible exceptions are big screen projection TV sets purchased between 1998 and 2004. A few of these were built with digital tuners, but it was mostly limited to sets with 42-inch screens or greater. Almost all TV sets sold since 2004 have digital converters or were built specifically for digital TV, especially the HD TVs. However, some sets were advertised as being "HD-ready" or "HDTV monitor" sets instead of being directly called HD TVs. These have the capacity to display HD signals but not the internal technology to receive the digital signals. They also will need converters.
Converter Boxes
If you have cable or satellite TV, you do not need a converter box regardless of the set you have. Your cable/satellite receiver box has the converter you need. Only people using a TV set with an antenna need a converter box. You only need to replace your antenna if it only receives VHF signals, because most digital signals are on the UHF bandwidth. Keep in mind that there are some smaller, low-power TV stations that were not required to make the transition with the others. If you have any stations that have not yet converted and you wish to view, you need a converter box with an analog pass-through feature. To connect the converter, disconnect the antenna from the TV, connect the converter's output to the TV (you can use the TV's coaxial or RCA ports) and connect the antenna to the converter's input to the antenna. Once the converter is connected, have it scan for all available channels in the area; check the converter's manual to see how to access its scanning option. Always change channels through the converter, manually or with its included remote.