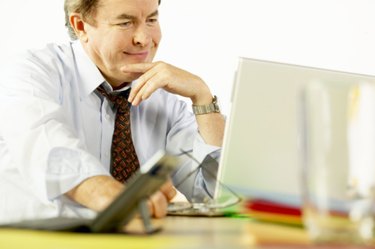 Littlefield Technologies is an online factory management simulator program produced since 1997 by Responsive Learning Technologies for college students to use while taking business management courses. "Littlefield Technologies has it all — the good, the bad, and the lessons most managers can only learn the hard way," according to the article "Factory Simulation Program Wins Wide Recognition" on the Stanford Graduate School of Business' website. Those that plan their simulation the best get the best scores.
Follow Coursework
Littlefield Techonologies is offered as a part of college coursework. In an interview with for the Stanford Graduate School of Business' website, the program's creators, Sunil Kumar and Sam Wood, recommend that student gamers use their knowledge accumulated from concurrent coursework as much as possible while using the 14-day simulation. There are strategically designed class assignments accompanying the game that the best planners typically complete to their advantage.
Manage Capacity
The purpose of the game is to be the management team with the most cash at the end of the 14-day simulation run. In the capacity management part of the simulation, customer demand is random and student gamers have to use how to forecast orders and build factory capacity around that. In gameplay, the demand steadily rises, then steadies and then declines in three even stages. Teams that are successful will not overbuy production capacity during the peak, as it will leave them with excess capacity when demand dies down.
"Reactive teams generally do not do as well as proactive teams," assistant professor Julia Miyaoka the wrote in the article "Making Operations Management Fun: Littlefield Technologies" in the educational journal Informs: Transactions on Education. Miyaoka said that after figuring out how to utilize the simulated factory's stations by forecasting demand, students learn when utilization will max out and realize that it is better to lose a little money from not having enough stations running during peak demand rather than spending too much to get the maximum amount of machines possible that sit idle when demand slows.
Machines and Lot Size
The customer management part of the simulation measures inventory and cash management and students need to plan which contracts to take. In Informs: Transactions on Education, Miyaoka recommends not taking too much stock in reducing lot size because "smaller lot sizes cause queuing problems at stations 1 and 3." This results in even longer delays from lead times. While it is important for teams to plan for economic order quantity, cash will be too short in the beginning of the game to implement it, so it is better to wait until the factory is generating money to purchase additional machines.