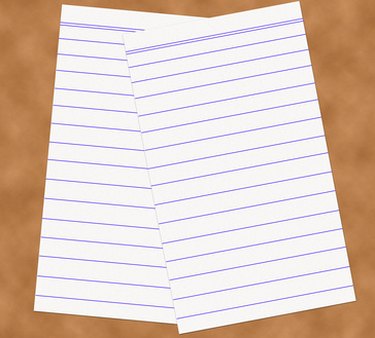 Booklets are a great way of showing your audience what your business has to offer or what to look forward to in a performance. Creating a booklet publication at home is a cost-effective way of doing something creative for your business or performance. Microsoft Publisher is a publishing program commonly included in high-end Microsoft suites. Microsoft Publisher allows users to easily create a variety of publications, such as flyers, brochures and booklets.
Step 1
Open Microsoft Publisher.
Step 2
Go to "New" and click "Blank Print Publication."
Step 3
Go to "File" at the top left of the menu and select "Page Setup."
Step 4
Select the "Printer and Paper" tab. Click the printer you would like to use to print the booklet.
Step 5
Select the paper size at which you want the booklet to be printed.
Step 6
Select "Landscape" under "Orientation."
Step 7
Select the "Layout" tab and click "Booklet" under the "Publication" type.
Step 8
Type the width and height you want the size of one of the booklets to be. Width is usually set at half the length of the paper and the height is set to be the width of the paper size you specified.