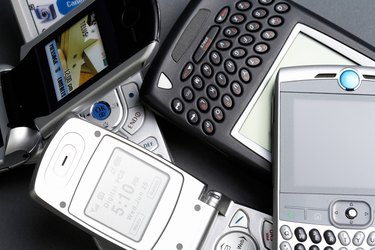 If you've looked inside your Boost mobile phone, you've probably seen that it does not have a Subscriber Identity Module, or SIM card. Because Sprint Nextel owns Boost, Boost phones use the Sprint network, which does not use phones that contain SIM cards. Choosing a Boost phone also impacts other aspects of cell phone service, including where you may use your phone.
SIM Card Definition
Cell phones that use Global System for Mobile Communications, or GSM technology, store information relating to individual customers on SIM cards. SIM cards contain information such as a customer's phone number and address book. GSM phones also use SIM cards to activate new service. With GSM phones and SIM cards, it is possible to switch from one cell phone to another cell phone programmed for the same network provider by switching the SIM card from the old phone to the new phone.
CDMA Versus GSM
Unlike phones that operate on GSM networks, phones that use Code Division Multiple Access technology do not use SIM cards. CDMA technology also limits where you can use a cell phone outside the United States. Other countries that use CDMA technology include China, Taiwan, South Korea, Thailand, India, Israel and several Latin American countries. However, GSM technology is dominant in much of the rest of the world, including nearly all of Europe. As a result, many CDMA phones will not operate if you travel overseas.
Sprint and Nextel
Sprint inherited iDEN technology and iDEN networks when it merged with Nextel, which operates a nationwide push-to-talk network. Like cell phones that use CDMA technology, cell phones that use iDEN technology do not have SIM cards. As a result, using phones with iDEN technology outside the United States is limited. Presently phones using iDEN technology operate in approximately 12 countries, including the United States. In December 2010, Sprint announced that it would end support for cell phones using iDEN technology at the end of 2013.
Mobile Virtual Network Operators
Boost provides prepaid cell phone service to its customers, many of whom live in urban areas. Technically, Boost is not a cell phone service provider. Boost is actually a Mobile Virtual Network Operator that resells service that it obtains from Sprint Nextel, which owns Boost outright. Many Boost phones use CDMA network service from Sprint for voice, text and Internet surfing. However, some Boost phones use Integrated Digital Enhanced Network, or iDEN technology, which enables push-to-talk functions in addition to regular cell phone features.