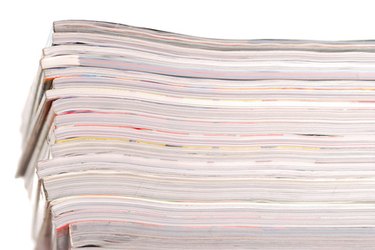 Paper feeding problems with Canon printers can be related to the media (paper) condition, paper quality or the printer. Paper not feeding properly can be accompanied by paper jams, too. Printer and paper preparation can go a long way to alleviate these kinds of issues. Follow some steps to ensure your paper feeds correctly in your Canon printer.
Step 1
Remove any jammed paper from the Canon printer. Pull the paper out from the sheet feeder in the direction that the paper was traveling. This will help avoid damage to the rollers and associated plastic parts. Allow the printer to reset itself afterward.
Step 2
Lift any covers and lids, and wipe the rollers with a soft, damp cloth. A light colored cloth will help you identify dirt that comes off the rollers. Clean the rollers gently with the cloth. Clean the rollers until no more dirt appears on the cloth. Allow the rollers to dry.
Step 3
Fan and then load fresh paper in the Canon printer. Use dry, flat paper. Don't overfill the tray. Discard any paper that curls or is wrinkled. Load the paper so that the left edge rests against the paper guide. Set the paper guide so that it fits the paper. You will see embossed markings on the paper tray that represent the size of the paper you are using. For example, move the paper guide to the "Letter" position if you are using letter-sized paper. Check that the paper is stacked perpendicular to the tray. Everything should be square.