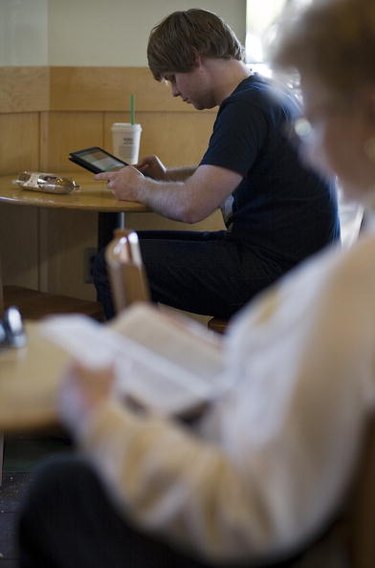 Your iPad may not send email for a variety of reasons, including a lack of Internet connection, faulty account setup and software glitches. In most cases, the Mail app on the iPad works seamlessly with major Web mail providers such as Yahoo!, AOL and Gmail. If you have a less common service provider or a post office protocol (POP) email account such as Hotmail, setup requirements vary.
Connectivity Issues
Launch the iPad's built-in Safari Web browser and enter any term you like into the search box or select one of your bookmarks. If the page loads, your Internet connection should function for sending email. If not, the reason your email isn't sending is a lack of adequate Internet connection. Launch the iPad's Settings app and tap the "Wi-Fi" or "Cellular data" (3G models only) link. Follow the onscreen instructions to choose a network or set up a cellular data account. If you have a Wi-Fi only model and no network connections are available, go to a public Wi-Fi hotspot and connect to that network, then try resending your email.
Account Setup
IPads offer the option of setting up your email accounts through iTunes or directly on the iPad. Apple's "Mail Assistant," however, notes that accounts set up directly on the iPad may work best, especially if your account requires advanced settings. Launch the Settings app and select "Mail, Contacts, Calendars." Select the account with which you are having trouble and delete it. Return to the "Mail, Contacts, Calendars" page and choose "Add Account." Set up your account again directly on the iPad by following the onscreen instructions.
Outgoing Mail Server
If you can receive email on the iPad yet not send it, most likely the simple mail transfer protocol (SMTP) settings for your outgoing mail are incorrect. Each email provider has one or more SMTP servers that handle your outgoing mail. From the "Mail, Contacts, Calendars" page in the iPad's Settings app, choose the problematic email account. Under "Outgoing Mail Server," tap "SMTP" and make sure the primary server is switched to "On." If the SMTP server option is not visible, select the account name again from the top of the screen; accounts such as Gmail require this second step. From the SMTP settings screen, you can add additional outgoing servers and turn them on and off. Contact your email service provider to obtain addresses and information for additional outgoing mail servers.
Other Issues
If you use a POP mail account on multiple computers, your service provider may limit how many devices can sign into the account at a time. Sign out of your email on any other computer before accessing it on your iPad, or use your computer's email settings to alter the number of devices that can access the account at once. If your email was working recently and stopped, your iPad may simply need rebooting. Press the sleep/wake button until the "Slide to power off" message appears, and then slide your finger over the arrow in the direction indicated. Wait a few minutes, then turn the iPad back on and see if your mail is working again.