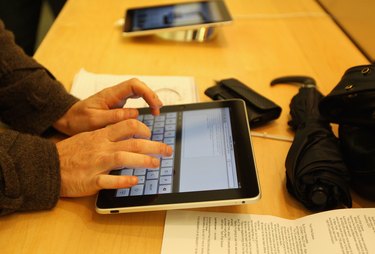 Not being able to receive emails on your iPad device is a frustrating experience. Many times you can fix it by troubleshooting different areas of the iPad settings and interface. Some of the most common reasons the iPad doesn't get emails is because it wasn't set up properly, network connection issues or the email provider is down. Checking into each possible problem individually can help solve the issue; however, sometimes a clean set up of the email account is necessary.
Network Connection
One reason you may not receive emails on the iPad is due to a network connectivity issue. This includes connecting to the Internet via a Wi-Fi connection or a 3G data network through AT&T or Verizon. You can check to see if you have an active Internet connection on your device by opening the Safari browser and going to a website that you don't normally frequent. If it doesn't work, you know the problem is the Internet connection. However, if it does work, then your email account may not be set up correctly.
Email Settings
To check your email settings on the iPad, tap the "Settings" icon on the home screen, and then tap "Mail, Contacts, Calendars" section. From there, tap on the email account you're experiencing problems with. Turn the "Mail" slider to the on position. You can also verify the login credentials are saved by tapping the "Account" button. Although you can't see the password since it's blocked out, you can type the correct password into that field and tap the "Done" button to save it.
Multiple Accounts
Some iPad users have multiple email accounts set up so they can access all their email from a single device. Check to see if you can access email from a different account. If you can, then the problem may be the email provider or account you were trying to access before. In an Internet-connected world, things still go wrong and online services occasionally go down. Access the email account from a computer to test if the problem is the service provider or device.
Reboot
If no other troubleshooting steps have worked and you still can't determine the problem, then turn off the iPad and reboot. Rebooting the device causes all the settings to be refreshed and function properly. Sometimes the Mail app gets out of sync with the network or email settings and the only way to restore the app's functionality is to reboot the iPad. Hold the power button until the slider appears and slide it to off. Then hold the power button for about two seconds until the Apple logo appears.