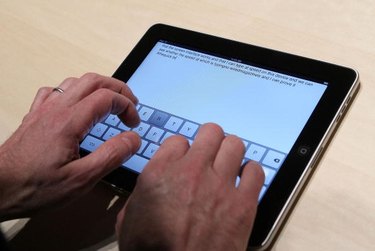 The iPad keyboard only appears when needed. If your cursor is not within a text-entry field or app, the keyboard hides itself to allow you more room for screen viewing. If you tap inside a known text entry field and your keyboard still does not appear, try to determine whether the problem is isolated to one app or affects the whole iPad.
Determine the Problem's Extent
Press the iPad's home button and select a text-based app, such as the iPad's built-in Notes. You can also try Mail or Safari if Notes is where you are experiencing the problem. In Notes, select a note and tap in the text entry area. In Mail, tap the "Compose" icon and then tap inside the mail message body area. For Safari, tap inside the search field. If none of these brings up the keyboard, your problem is system-wide. If the keyboard comes up in these apps but not the one you originally wanted to use, the problem is app-specific.
Check for Competing Devices
If you use a Bluetooth keyboard or other input device, this can prevent your virtual keyboard from appearing. If the problem seems system-wide, launch the Settings app and select the "General" tab. Turn the Bluetooth feature off to disconnect all Bluetooth devices. Return to your text entry fields and see if the keyboard launches. You can also choose to unpair your Bluetooth keyboard by choosing the arrow next to it in the device listings with the Bluetooth turned on, then choosing "Forget this device."
Reboot and Reinstall
Back up your data by syncing your iPad with iTunes. After the sync completes, disconnect the iPad from your computer. Press and hold the app icon of the faulty app if your keyboard problem was app-specific, and then press the "X" in the upper-left corner to delete the app. Whether or not the problem was app-specific, press and hold the sleep/wake button, then slide your finger over the screen where indicated to power off the iPad. Restart the device after a few minutes and text the keyboard again. If your problem was app-specific, visit the App Store to reinstall the app. You can download any purchased app again for free since iTunes keeps a record of the purchase. If the problem continues with the app, contact the app developer for a solution.
Considerations
This problem generally occurs after using a Bluetooth keyboard because the iPad still senses the keyboard is connected. Make a habit of turning off the Bluetooth after you finish using an external keyboard or at least disconnecting the device if you still need the Bluetooth for other connections. Excess Bluetooth use can shorten your iPad's battery life, as it consumes power to send and receive Bluetooth signal.