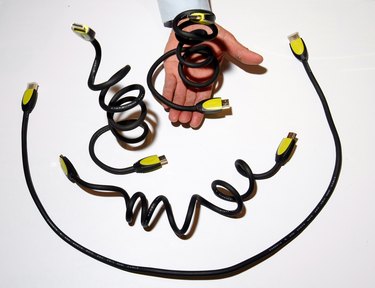 Panasonic digital televisions rely on the High Definition Content Protection protocol to authorize digital signals. These signals are transmitted over High Definition Multimedia Interface cables that incorporate internal wiring to specifically carry HDCP signals. Your Panasonic TV gives you an HDCP error if either the equipment or cabling itself is compromised in some way.
HDCP Primer
HDCP protects high-resolution material from unauthorized duplication by forcing a handshake between all connected devices in the signal chain. For example, in the case of content played through a Blu-ray player, the audio and video is virtually identical to the master copy, and if even one of these devices is non-compliant or malfunctioning, the signal will fail to be displayed and an error message will be displayed instead.
Switcher Compliance
Home theater enthusiasts using an audio/video receiver predating HDMI switching are forced to use outboard HDMI switchers. These devices, depending on cost and manufacturer, may or may not be fully HDCP compliant. In this case, certain devices or all of them may not successfully pass their signals to the Panasonic TV. A quick method of determining if a switcher is the culprit is to remove it from the signal chain and connect the devices individually to the Panasonic TV to see if their display is outputted without the error message appearing.
Cable Issues
HDMI cables must remain kink-free, keeping strain off the internal conductors and the connector end. Deformation or breakage of these connectors often results in an HDCP failure. Additionally, general signal loss from using an HDMI cable that is more than 75 feet long may culminate in an HDCP error message. Keep HDMI runs to under 50 feet unless you use an HDMI repeater.
Other Symptoms and Solutions
Panasonic televisions can also go blank every few seconds when experiencing HDCP issues. Other times, a green or pink snow-filled image appears instead of an HDCP error message. Often, an HDCP error can be resolved by turning off the sources and the Panasonic TV, then restarting the sources first and then powering on the TV. Doing this re-syncs the HDCP connection, provided there are no hardware or cabling issues.