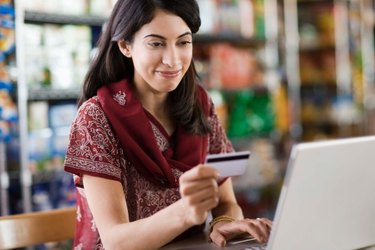 E-commerce is business activity carried out electronically on the Internet rather than at a physical location. Through websites, some businesses do business with other businesses, an e-commerce model known as B2B. Other businesses sell to consumers online, in a B2C e-commerce model. The advent of e-commerce has had both positive and negative effects.
Privacy
Retailers with an e-commerce presence can collect a lot of information about visitors to their websites. By setting up electronic trackers called cookies that track the surfing patterns of visitors, e-commerce merchants can develop individual profiles of online customers. This allows them to target advertisements to consumers based on what the merchants believe to be their needs. Some critics say this activity intrudes on consumers' privacy.
Security
Another negative effect of e-commerce is its potential threat to the security of consumers' personal information. When consumers buy online, they typically input a credit card number and other personal information. Unauthorized persons could access this information through flaws in the merchant's computer system. Merchants have become much more vigilant about information security than they were in the early days of e-commerce.
Energy Consumption
One positive effect of the emergence of e-commerce is that it may save energy. Consumers who shop online rather than drive to stores use less fuel and their cars emit less pollution. Also, because e-commerce reduces the need for warehouse space to house goods near retail stores, these warehouses use less energy.
Cost Reduction
E-commerce can reduce costs for consumers when companies cut down on middlemen involved in distributing goods, warehouse space to store the goods and personnel expenses. E-commerce also enables companies to manage their inventory better. To be competitive, businesses are likely to pass down at least some of these savings to consumers.