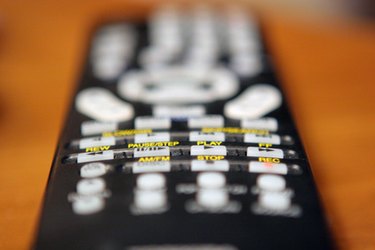 The JVC universal remote can be programmed to operate with every brand and model of home electronic devices.
Step 1
Move the mode selector on the remote to "TV" and press and hold the television power button. Press "Enter."
Step 2
Enter in the manufacturer's code for your television or other electronic device. The code is typically 2 digits long. The JVC manufacturer's code is "01." Other codes include "10" for Hitachi, "02" for Magnavox, "07" for Sony, "04" for Panasonic and "08" for Toshiba. Additional codes can be found in the user's manual for the JVC universal remote. Release the television power button.
Step 3
Program a direct broadcast satellite (DBS) tuner by setting the mode to "VCR/DBS" and press "DBS." Press and hold the VCR/DBS power button and press "Enter". Press the buttons for the manufacturer's code, which are typically 2 digits. RCA is "19," Pioneer is "13," EchoStar is "21," GI Jerrold is "01" and Sony is "20." Additional codes can be found in the universal remote user's manual. Release the VCR/DBS power button.
Step 4
Press the "Audio" power button to use features other than the television, such as a DVD player or stereo, and select the desired source. The options are DVD, FM/AM, VCR or DBS.
Step 5
Set up the speaker settings by choosing "DVD" as the source. Hold the remote where you listen to the sound from the home entertainment unit. Press and hold "Smart Setup." Press "Enter" and move the cursor up and down on the television screen using the up and down arrows to select the distance between the front speakers and where you are positioned. Press "Start" and then "Enter."