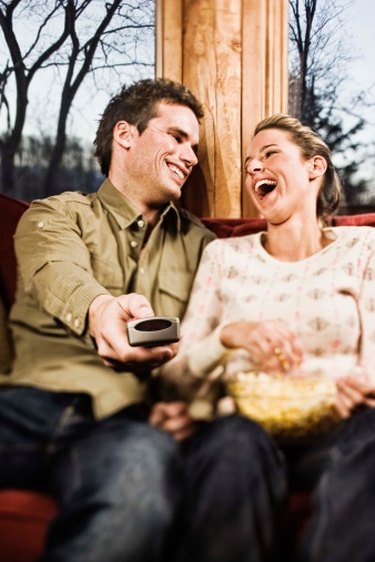 Universal remote controls can operate all your audio/video components. But different remotes have different methods for programming. You can program older Sanyo universal remotes only by using specific codes assigned to devices from different manufacturers. You can program some newer Sanyo TV remotes to operate other devices, sometimes without entering manufacturer codes. However, with either type of remote, the process involves more effort when you do not initially have the proper codes.
Obtaining Codes
Step 1
Visit Sanyo's website to obtain the device codes for your universal remote. From the home page, click the "Consumer" tab and click the link for "Televisions." Click "Remotes." Scroll down to the link for "Owners Manuals."
Step 2
Find your exact model of product and remote control. Televisions are sorted by year and by model series; universal remotes are in a separate section at the bottom of the page. Click the link for your specific model number to access the manual.
Step 3
Find the program codes of the device you want to operate. They are sorted by type of device and manufacturer.
Step 4
Press and hold the button for the type of component you want to program (for example, VCR or DVD) while entering the first listed code. The number of digits in the codes will vary. Release the device button; the indicator light will flash five times if the code was accepted, and not flash if it was not. If necessary, repeat the process using the next listed code until a code is accepted.
Code Search
Step 1
Turn on the device you wish to program the remote to. Press the appropriate device key (for example, TV or VCR) on the Sanyo remote to initiate code search. Not all remotes offer this option.
Step 2
Press and hold the "Set" button until the LED indicator light blinks twice. Enter "991" on the numeric keypad; the indicator will again blink twice.
Step 3
Press the group number for your type of device, which is "0" for cable and satellite receivers, "2" for VCRs and DVD players, or "3" for audio components such as tuners and CD players.
Step 4
Aim the remote at the device and press "Power." The remote will begin sending codes stored in its system to the device; press "CH+" repeatedly to have the remote try additional codes; press "Set" to save the code when the device responds by turning off. The indicator light will blink twice to acknowledge the saved code.