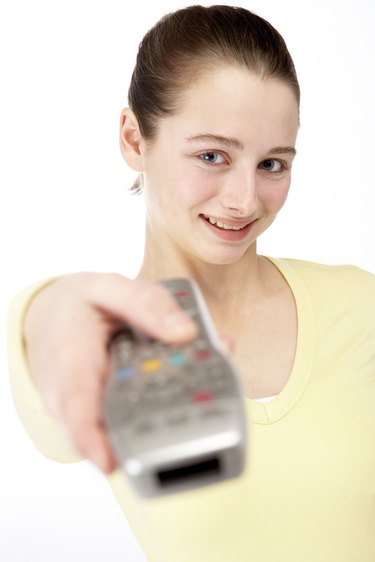 If you've tried programing your FiOS remote control with the codes listed in the manual for your TV or other device and you still can't get it to work, try searching for the device code instead. If there is a code within the FiOS remote's memory to operate your device, the remote control will find it.
Step 1
Turn on your TV or other device that you would like your FiOS remote to control.
Step 2
Press and hold the corresponding device button on the remote. While holding the button down, press "OK" and release the buttons. The mode buttons should blink twice to indicate that this step was performed correctly and your remote control is now is in search mode.
Step 3
Enter the code "922" using the remote's numbers.
Step 4
Point your FiOS remote at the device you are programing. Press the top part of the "PLAY" button.
Step 5
Scroll through the codes by repeatedly pressing the "Fast Forward" button until the device turns off. If you accidentally push the Fast Forward button too many times, you can go back to a previous code by pressing the "Rewind" button.
Step 6
Press "OK" as soon as the device turns off to save the correct code. If you get to the end of all the possible codes, the remote will blink twice and there is not a pre-programmed code for your device.
Step 7