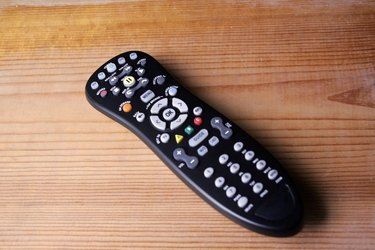 A Sharp universal remote will control appliances such as a television set, cable box or VCR. Using this one remote control will give you the option of getting rid of the separate remote controls for the electronic devices. Before you can start using the Sharp universal remote to control electronic devices, that remote will need to be programmed to those devices. This is accomplished by entering a code for those devices into the Sharp universal remote.
Step 1
Turn on the device that you are planning to use with the Sharp universal remote.
Step 2
Point the Sharp universal remote at the device that has been turned on.
Step 3
Press and hold down the button for that device (i.e. "TV," "VCR," etc.) and the "Channel Up" button on the Sharp universal remote for about seven seconds.
Step 4
Type in the code for the device. This code can be located in the manual for that Sharp remote or on the Internet.
Step 5
Press the device button you held down in step 3 to save the code.
Step 6
Test the Sharp universal remote on the device by pressing the "Power" button. If the device does not respond to the remote, repeat the programming process starting at step 1.