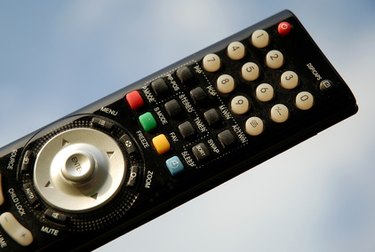 The Philips CL034 Universal Remote can eliminate the hassle of juggling a handful of remotes for each component of a home entertainment system and can make a good replacement for a lost or broken remote. Programming it to work with the various video components is a simple process once you know how, making it easier to relax and enjoy your favorite TV programs.
Step 1
Find the code for the device you wish to program the remote to. Each brand and model of video component--TV, VCR, DVD player and cable/satellite receiver--comes with a specific four-digit code that allows the Philips remote to access it. Your remote may come with a list of codes for every major brand. If you don't have a list, search for the codes online.
Step 2
Turn on the component and point the remote at it. Press and hold the "Code Search" button. Let go when the indicator light stays on.
Step 3
Press the button for the desired device ("TV", "VCR/DVD" or SAT/CBL"). The indicator light will blink, then remain on.
Step 4
Enter the four-digit code. If the device accepts the code, the indicator light will go off. If not, it will flash, and you must try a different code if the device has multiple possibilities.
Step 5
Press "Power," "Play" or "Channel Up" when the light has gone off to see whether the component responds. If so, move on to a different component.
Step 6
Point the remote at the device again if the available codes weren't accepted or weren't found. Hold down the "Code Search" button until the light stays on.
Step 7
Press the device button. The light will blink off once. Keep pressing "Channel Up" (or "Power" or "Play" for VCRs and DVD players) until the remote finds the correct code and the device responds. Then press "Mute" to save the code.
Step 8
Press the "Code Search" button, followed by the "VCR/DVD" button, to access the VCR in a VCR/DVD combo machine if the code was saved in DVD mode. To access the DVD, press and hold the "VCR/DVD" button for one full second.