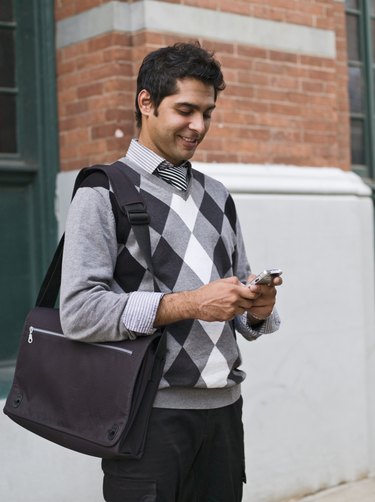 The Motorola CE0168, or the RAZR, offers many hardware and software features, from its two cameras to its updated Android 4.1.2 operating system. While this phone is not currently sold by Motorola, its features are still acceptable as a modern smartphone.
Physical Specifications
The RAZR has a 4.3-inch touch screen and multiple ports: a micro HDMI port, a 3.5 mm headphone jack and micro USB port for charging and for transferring data with a computer. It also has a micro SD card slot with a 16 GB pre-installed card and the phone's buttons are the volume keys, power key and the four soft keys: Menu, Home, Back and Search. The phone also has a 1.2 GHz dual-core microprocessor.
Wireless and Software Specifications
The RAZR uses Verizon's 4G network and can also connect to 802.11b/g/n Wi-Fi networks. The RAZR can also use its 4G connection to create a Wi-Fi hotspot for other devices, and you can use standard texting, multimedia messaging and email apps, all of which could incur charges to your account. Additionally, you can use voice commands and three-way calling, and the RAZR has front- and back-facing cameras for photos, video and video chatting.