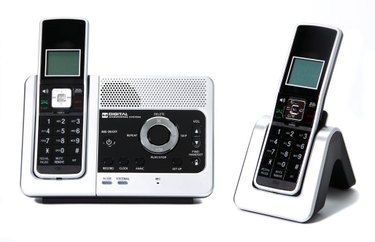 If you own a Uniden cordless phone and you're having trouble getting the phone to recognize its base, you can reset the phone in a few steps. If you bought a series of phones and you want them to be recognized by one base, you can also reset the phone to do so. You can reset your Uniden phone in just a few minutes and bring it back to working order.
Step 1
Remove the batteries. Turn the phone handset over. Slide open the battery door and remove the batteries from the handset.
Step 2
Enter the key code combination. Hold down the "#" and "*" keys at the same time, while re-inserting the batteries.
Step 3
Press the right-side menu button. These are the "soft" buttons which are unlabeled, directly underneath the display screen. The screen should now display "EEPROM CLEAR OK!"
Step 4
Place the handset on the base. The phone will now register itself to the new base and has been successfully reset.