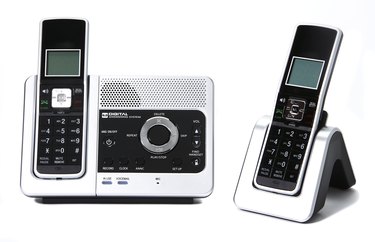 Panasonic cordless phones are telephone units you use with your land line-based phone service. Though the phone comes with a handset that is programmed to work with the base of your phone, errors in the handset may erase the connection, making it inoperable with the base. In addition, Panasonic phones allow you to connect additional handsets to the phone. To return your handset to normal working order or to connect an additional handset, register the handset with the phone base.
Step 1
Press the "Menu" button on the handset and then # > 1 > 3 > 0 on the phone number keypad.
Step 2
Hold the "Locator" button on the base of the phone until you hear a tone. It will take approximately four seconds before you hear the tone. In some cases, all of the handsets will ring when you hold down the button. This is an error. Press the "Locator" button again and repeat this step.
Step 3
Push the "OK" button on the handset. Wait until you hear a confirmation tone.
Step 4
Finish adding the handset by pressing the "Off" button. The handset is now connected to the base and ready for use.