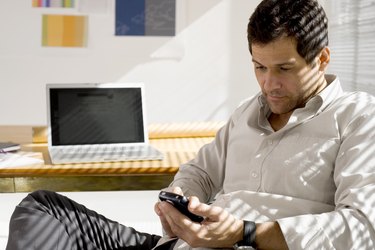 When you lock your Motorola Hint QA30 smartphone and then forget the four-digit passcode, you may have to reset the phone to its factory settings before you can use it again. A reset also may be your last resort if you locked certain features of the phone, such as your call list, saved text messages or Web browser app. Resetting the phone erases all of your personal information and settings and changes the passcode back to its factory default.
Step 1
Enter the factory default unlock codes. First try "1234" and then try the last four digits of your phone number. If these numbers don't work, the passcode has been changed and your only option is to reset the phone.
Step 2
Make copies of important information such as phone numbers and email addresses if you only locked certain features and still have access to the phone's interface. If the phone is completely locked, you won't be able to access any of this information.
Step 4
Press and hold the large "Select" key in the center of the phone under the screen and then power on the phone. Continue holding the "Select" key until the "Master Reset" screen appears.
Step 5
Select "Yes" to verify that you want to reset the phone. The phone erases all of your settings and other information stored in its memory. Files stored on a micro memory card are unaffected.
Step 6
Restart the phone once the screen indicates the reset process is complete. If prompted, enter the default setting of "1234" or the last four digits of the phone number as the unlock code.