PCSX2 is a Sony PlayStation 2 (PS2) emulator that often requires immediate changes in performance settings before use. The emulator makes retail PS2 games think that it is in a PS2 when it is inserted in the computer's disk drive. In order to play PS2 games on your computer, you must have a very high-performance machine.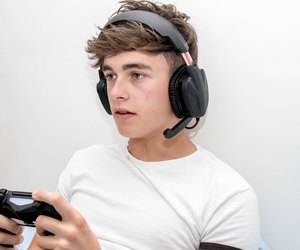 credit: Ben Gingell/iStock/Getty Images
Starting the PCSX2 Emulator
To get to the PCSX2 emulator settings window, start the PCSX2 program on the computer on which it is installed. Click the "Config" button that is on the top of the main program window. Click the "Configuration" button on the context menu that comes up. This brings up the PCSX2 plugins window, where its settings can be changed.
Sound Settings
Click the "Sound" button on the plugins menu and select the "SPU2-X" sound plugin. This gives you the best sound possible without stressing your computer's CPU too much. Click "OK" to save the settings and to return to the main configuration window. Underneath the sound plugin button, click the "Configure" button to set the audio plugin to its optimal settings. A new window will pop up. Make sure there are check marks next to "Linear" and "X Audio 2." If they are not checked, click the empty box next to them. Audio is now set to its top settings.
Video Settings
Click the "Graphics" plugin button on the main configuration window and select "GSdx 890," which is the standard video plugin for PCSX2. Like with the audio plugin, select the "Configure" button underneath the video plugin button. Make sure that there are check marks next to "Pixel Shader 3.0," "Directx10 Mode" and "Direct3D10." Click "OK" to save the settings. The emulator will now emulate video for the PCSX2 emulator at the best performance rate. There might be some occasional striping with the video, which means you may see some lines across the screen. The game will still be playable.
Background Information
PCSX2 is not capable of playing Sony PS2 games on all computers. Although many computers have much better specifications than that of the Sony PS2, running PS2 games through emulation on a computer takes more resources than many standard computers have. Quad-core, or four-core processor, computers still have problems emulating many PS2 games at full speed. Gaming computers that usually have maximum-speed CPUs and RAM tend to help PCSX2 emulate games at much faster speeds. If you have a gaming computer, it is recommended to use the emulator on that computer. If you do not own a gaming computer, you can try to use the emulator, but the results may not be ideal.