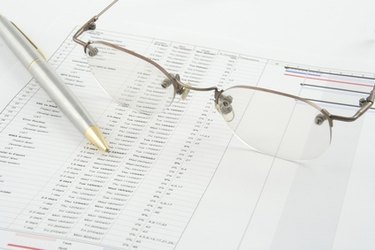 Microsoft Access is a database program that is designed to be customizable by anyone with basic computer skills. The drag-and-drop design tool in Access allows the user to place buttons, input fields and check boxes anywhere he would like on the input screen and then assign values to those fields. Using the Access report tool, the user can then create reports that will allow the data to be seen in an easy-to-read format. Once you start creating reports in Access, you see how helpful the software can be.
Customer List
One of the reports you can generate using Access is a list of your entire customer base. Using the qualifiers you have created such as address or number of employees, you can arrange your data in any way you would like. You can break your customers up by geographical region, arrange them based on telephone area code or postal ZIP code or put them in order of when they were entered into the database. You can show any of the information you have collected about your customers in your customer list report that can help you to better analyze your business.
Sales Volume
As a database program, Access is able to collect any data you enter into it and in any format you need it in. You can create either a box entry field where you input sales into the database, or you can create check boxes with ranges of annual sales. Access can then generate a report for you based on customer sales and arranged in any way you would like.
Sales Representatives
Access can be used to generate reports on the progress being made by sales representatives with all of your customers. You can arrange the information by sales representative, by volume with sales representative names attached or by region. You can generate reports that will help you to see how often customers are being contacted and what notes are being made by sales personnel.
Products
Access can also help you keep track of your inventory and product sales as well. You can create profiles of all of your material purchases, and then generate reports that can show what vendors are used to purchase which products. You can also create product profiles and track sales. Any information from sales volume to vendor purchase price can be analyzed.
Employees
Your employee database can be kept in Access, and from there you can generate human resources reports. You can see how many employees you have and break reports down by division or tenure with the company. You can analyze salaries, and you can look at productivity figures with Access reports.