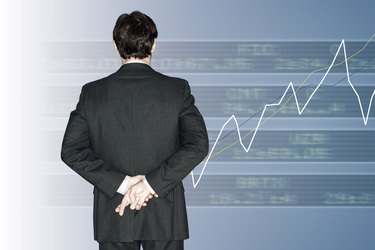 No two investors are exactly the same. There are a number of online stock trading companies and each serves a number of different types of clients. Top online stock trading companies are those with competitive fees and commissions, a variety of research tools for every level of investor, and high industry reputations. Be sure to thoroughly research your broker and your investments thoroughly before making your choice(s). Be aware that fees can change regularly. In the end, however, choose the one that most appeals to your goals and ideals.
Charles Schwab
In 2009, Charles Schwab received the award for the highest customer satisfaction from J.D. Power and Associates. The highly reputable global marking firm surveyed 5,000 investors using self-directed investments and measured brokers on their account offerings, information resources, account information, trading charges and fees and interaction. The company also received the Tiburuon CEO Summit award for Maintaining a Focus on Consumer Needs in 2009. Charles Schwab offers solid research tools, a broad array of investment products, and the highest level of customer service.
TradeKing
Established in December 2005, TradeKing stresses social networking amongst investors and traders. "Business Week" referred to TradeKing as "MySpace for Traders" in an article in 2006. TradeKing's website offers a wide-array of educational tools, and in 2007, they released their "Options Playbook" primer, offering investors a "jargon-free" education of options trading strategies. TradeKing receives a lot of ink and excitement in the blogging community as well, with numerous reviews and commentary on the company's progress.
Fidelity Investments
Fidelity Investments is an important name in the mutual fund game, but also offers clients the opportunity for stock trading. Although Fidelity offers trading services online, it also offers the benefit of in-person, brick and mortar support through its over one hundred "investor centers" worldwide. Fidelity also offers a wide-variety of investor resources, including webinars, live events and seminars, and mobile capabilities for Blackberry, iPhone, Palm, and Windows Mobile.
TD Ameritrade
TD Ameritrade, formerly Ameritrade before its acquisition of TD Waterhouse USA from the Canadian parent company TD Bank Financial Group, stands out as being one for the discount brokers that does not charge an account maintenance fee. Many of the other members of this list may charge fees if you do not meet the minimum balance and/or minimum trade requirements. Further, TD Ameritrade's trading "control panel" trading platform consistently receives top marks for usability and organization.
E*Trade Financial
E_Trade and Fidelity, with some restrictions, are two of the first brokers to offer international stock exchange trading. These are not ADR (American Depository Receipt) trades, US-dollar denominated, US-traded stock of non-US companies. These are trades actually taking place in the country of origin. Like many of the others on this list, E_Trade also offers a strong trading platform to its active traders and will often offer the trading platform to first time investors on a free trial basis.
Sharebuilder/ING Direct
Sharebuilder is built on a premise that encourages investors to set up automatic and recurring investments in stocks and other investment vehicles. It has a unique pricing model that provides a discount to trade commissions if the investor sets up automatic investments and does so for a specific day of the week, say every Tuesday. Sharebuilder also offers a subscription plan that allows for lower trade commissions, sometimes as low as $1 per trade. Although the company encourages a different take on investing from most of the other members of this list, Sharebuilder does still offer online research tools, although Smart Money ranked their trading tools as "worst" in their 2009 article.
Scottrade
According to TopTenReviews 2010 Online Stock Trading Review, Scottrade offers the mobile trading platform with the most versatility. Services are available for nearly all mobile platforms including BlackBerry, iPhone, Palm, Windows Mobile, Symbian and Android. In 2008, Scottrade won the top award in the customer service survey performed by J.D. Power and Associates, and in 2009 placed third with strong satisfaction with trading charges and fees and boasted high marks for client interaction through their over 400 nationwide brick and mortar branches.
Zecco
In 2008, two years after the company was founded, Zecco attempted to counteract a decrease in client trading activity with an offer of unlimited free stock trading for its customers. By 2009, the free trading became limited to those clients with either $25,000 in assets, or who were placing 25 trades per month. However, even clients not meeting the minimum requirements could enjoy $4.50 trades, a discount from most of the larger broker commissions for less than active traders. Similar to TradeKing, Zecco stresses the idea of an investing community, and reaches out to its client base through ZeccoShare, an online community with messaging, profile pages, and an activity feed.
OptionsXpress
Ranked as the #1 Online Stock Trading Company for 2010 by TopTenReviews.com, OptionsXpress can be beneficial for both the actual investor and the virtual one. OptionsXpress also offers a virtual trading world in addition to the real world one, to allow investors a chance to get their feet wet without the risks, and rewards, of actual trading. OptionsXpress received high marks from Smart Money for its trading tools, but the survey was disappointed to find that they offered limited hours of phone-based customer service.
Just2Trade
Just2Trade received top marks from SmartMoney for its fees and commissions. Boasting $2.50 stock trades, Just2Trade edged out Zecco for the cheapest trades following Zecco's increase in their per trade fee and a decrease in the number of free trades they offer their clients.