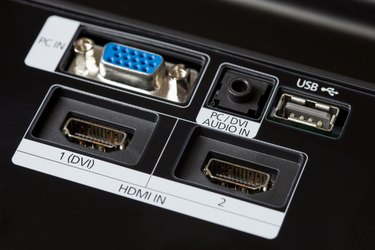 Vizio's 2018 lineup includes more than 60 TVs, from 80-inch 4K models with price tags well over $2,000 to compact 720p sets that go for an economical $100-ish. Despite this huge variety of models, Vizio TVs – like those from just about any other manufacturer – share a small, industry-standard variety of audio outputs and inputs. Without these handy ports, you'd have no sound on the TV other than the built-in speakers. You don't have to look at your Vizio TV manual to learn about its audio output options; take a look at your Vizio's spec sheet or peek behind the panel to find out exactly what sort of audio inputs and outputs it's packing.
Vizio Audio In: HDMI
From the value-priced Vizio D-Series to the highest of high end HDR and Chromecast-enabled E-Series, all of Vizio's HDTVs have HDMI inputs. Some of them feature no fewer than four or five of them. HDMI is the most common HDTV input for hooking up devices to your TV because it can transfer both audio and video signals to the TV at the same time. On the audio side, HDMI supports high-resolution audio formats such as Dolby TrueHD and DTS HD Master Audio, as well as multichannel audio.
Some midrange and high-end Vizios feature HDMI inputs with ARC (Audio Return Channel) support. This feature allows you to use a single connection between your TV and sound system, even enabling a single remote to control everything.
Vizio Audio Out: Analog Options
Analog audio connections, which use those ubiquitous red and white jacks, transmit sound via electrical impulses, while digital connections use pulses of light. Compared to other types of audio ports found on Vizio TVs, this is a lower fidelity option.
Each audio connection on the analog cable, the red end and the white end, transmits a separate audio channel, allowing for stereo sound. These multichannel connections, commonly dubbed RCA connections, come in two varieties on Vizio and other TVs: composite and component. Audio works just the same on both, utilizing the red and white jacks for stereo sound, but composite connections feature one additional yellow cable to transmit video data, while component cables feature blue, green and orange cables for higher-quality video.
Vizio Audio Out: Digital
Digital audio out in the form of an optical connection is also a common feature of Vizio's HDTV lineup. While digital optical audio offers better sound quality than your TV's analog ports and can pass multichannel audio signals so that it supports 5.1-channel speaker setups, its audio transfer quality falters a bit compared to HDMI. This type of connection doesn't support high-res formats like Dolby TrueHD or DTS HD Master Audio, which you'll find on many Blu-ray discs.
That said, audiophiles will only notice an audio quality difference on high-end sound systems. For the casual listener, digital optical connections will likely sound identical to an HDMI connection when listening to a sound bar, for example.