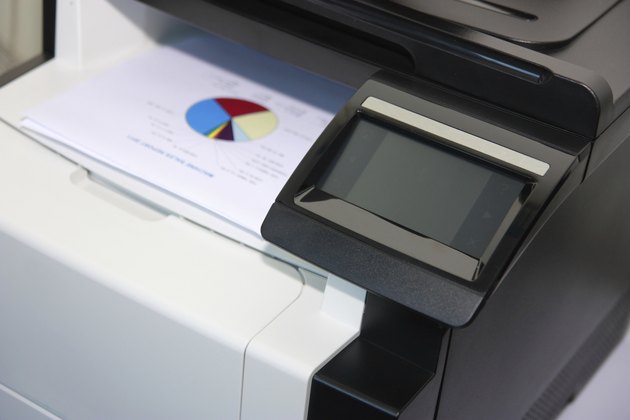 Hewlett-Packard has been manufacturing high-quality inkjet printers for many years, and has focused primarily on the home office, small business and workgroup markets with its feature-rich line of Officejet printers. From high-speed desktop printers to wide-format printing capabilities, the Officejet line has over 20 models that can handle most business needs. For the low-volume casual user, HP has two budget-priced models in its Deskjet line.
Officejet Printers
The Officejet line of printers is broad and includes the Pro, Mobile, Wide and Enterprise models, each with different business-oriented features and specifications. With over 20 printers to choose from in the Officejet line, you can find the features that are most important to you. Whether it is high-speed printing in color and black-and-white, scanning documents, or protecting your data with advanced security solutions, one of the Officejet models will efficiently handle your needs. Prices range from under $100 for a basic inkjet model that prints up to 16 pages per minute, to about $2,000 for a high-end commercial-use Enterprise version.
Deskjet Printers
The Deskjet line consists of two compact color inkjet printers designed to handle a low volume of 50 to 400 pages per month, perfect for a home office or student's room. If you need a few copies to take to school or work, or maybe you want to scan a favorite picture and print some copies for friends, having a Deskjet printer is a convenient and cost-effective way to accomplish this. The basic printer costs $29.99 while the all-in-one model that prints, copies, and scans costs $79.99. Both printers are easily transportable because of their small size and light weight, print seven copies per minute, and the all-in-one model also offers convenient wireless printing.
World's Fastest Desktop Printer
According to HP, the printers in the Officejet Pro X series are the world's fastest desktop printers, with printing speeds up to 70 pages per minute in general office mode. Starting at only $449.99, this easy-to-use multi-functional printer also has wireless, Ethernet and USB capabilities, and is designed for multiple users in a workgroup or networked environment. You can print from a thumb drive using its USB connection, or you can print web-based content directly from the touchscreen.
Unique Officejet Printers
The Officejet Enterprise models are designed for commercial use and includes advanced security features, prints at 44 pages per minute and has several high-end models starting at $749.99. The Wide Format Officejet e-All-in-One color printer is capable of printing materials up to 13-by-19 inches. It prints up to 15 pages per minute and is priced at $179.99. For professionals who need mobility in a printer, the Mobile Officejet uses built-in Bluetooth wireless technology and prints up to 18 color pages per minute. It uses a long-life lithium ion battery good for printing 500 pages on a full charge and is priced at $279.99.
Inkjet Cartridges
Both the Deskjet and Officejet printers use ink cartridges that easily snap into place. Due to the higher volume needs of Officejet line users, HP has developed high capacity ink cartridges that fit into the printers like the standard cartridges but do not need to be replaced as often. For the low volume or occasional printing done on Deskjet printers, HP has developed economy cartridges for the budget-conscious consumer.