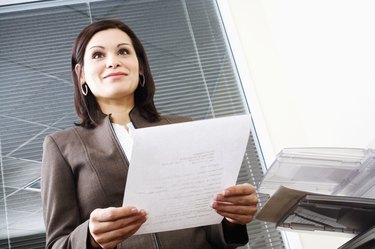 The HP Officejet printer range is designed for the home office and small business market; Deskjet printers are aimed at the home user with basic printing needs. Within the Officejet range, Officejet Pro printers provide faster, higher-quality printing of documents and photos and can handle more users over a larger network. If energy saving is important to you, some printers are more energy-efficient than others or use recycled materials in their manufacture.
Deskjet
Deskjets are color inkjet printers for home use. The top-of-range Deskjet can print, scan and copy and has wireless capability while the basic model is a single-function printer. The range is constructed from 25 percent to 35 percent recycled materials and has a top print speed of under 10 pages per minute. The top model can also print directly from the Web without needing a computer and can produce two-sided printing automatically.
Officejet
Officejet printers are small enough to fit on a desktop and are intended for home offices, or smaller offices and businesses. They can be used on basic networks with two or three users; some have wireless connectivity. The all-in-one models have fax capability and the fastest printer in the range can print at up to 16 pages per minute in black and nine ppm in color.
Officejet Pro
Designed for a greater output, the Officejet Pro range can produce up to 1,250 pages per month at speeds of up to 20 pages per minute in black and 16 pages per minute in color. Using pigment inks to produce professional quality printing, they can output high-quality business documents and photos on glossy or other special paper, so they're ideal for in-house marketing materials. Up to 10 users can access an Officejet Pro and the high-capacity ink cartridges mean savings of up to 50 percent per page compared to laser printers.
Pricing
There is a significant price difference between the cheapest Deskjet and the most expensive Officejet Pro. At approximately $300 in 2013, the most advanced Officejet Pro costs around three times more than the top Deskjet model and ten times more than the basic Deskjet. The cheapest Officejet costs the same as the most expensive Deskjet.