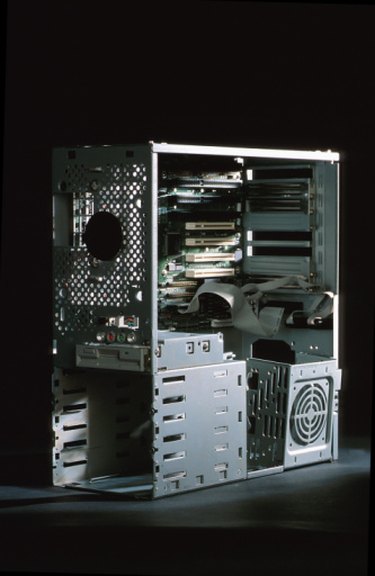 Ask any computer builders what kind of case they enjoy working with, and you will get one nearly universal answer: a full tower. Though full towers are not necessary for most home users, they are the preferred setup for the enthusiast or certain special builds. Keep in mind that there are no set industry standards for full tower dimensions, so all of the specifications can vary.
Full Towers Are Really BIg
The standard minimum height for a full tower is 22 inches. The width and depth vary greatly from brand to brand, but they are usually somewhere around 8 inches by 20 inches. You can even find cases labeled as "super towers" or "extreme gaming" or something similar that exceed 24 x 12 x 24 (H x W x D).
Full towers are often very heavy and can exceed 30 pounds (13.6 kilograms) without any additional parts. Fully loaded, the tower can easily break 50 pounds. Enthusiasts love to brag about how heavy their PCs are.
The chassis is meant to stand on the ground, but a very sturdy desk is a possible substitute. The DVD drive might be difficult to reach if you do that.
Internal Dimensions
Full towers always support the ATX form factor. A full ATX motherboard is 12 inches by 9.6 inches, allowing for a great deal of extra space. This provides the builder with many additional options for cooling and air flow.
Full towers almost always support micro ATX as well, at a standard size of 9.6 x 9.6, but there is no need to use such a small board. Micro ATX does not take advantage of the full tower's capacity for extra hardware.
Drive Bay Capacity
Full towers boast an array of approximately 10 internal and external drive bays, depending on brand. Internal bays are usually 3.5 inches and removable, but some manufacturers include modifiable bays that can support almost anything. External bays are mostly 5.25 inches.
Most modern full towers have eschewed traditional IDE internal bays for SATA bays, but still keep at least one 3.5-inch external bay for legacy floppy disk drives and other, more specialized drives.
Full towers sometimes include special 2.5-inch bays meant for solid-state drives and some portable or "eco-friendly" drives. This is a nice convenience, as it saves you the trouble of mounting the drive with brackets.
Other Hardware
Full towers normally do not exceed seven expansion slots. This is because it is unusual to find an ATX motherboard that supports more than seven slots. However, there are "enthusiast" level boards and cases out there that do support this kind of extreme capacity, often at a premium.
A good full tower will have many options for multiple 120 millimeter and 140 millimeter fans. Smaller fans are noisier and don't take advantage of the large air space inside the case. Sometimes, cases will support side fans up to 220 millimeter or larger. The extra size of the chassis allows this luxury.