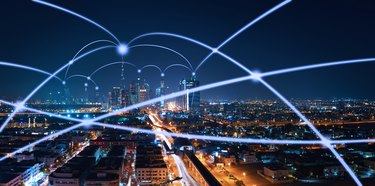 An Ethernet controller is hardware inside a computer that lets it communicate with the wired networking technology called Ethernet. It's usually either a circuit board called an Ethernet card or part of the computer's motherboard, and it includes a connection to the rest of the computer, some microchips to handle Ethernet communication and an Ethernet port where an Ethernet cable can be plugged.
How Ethernet Works
Ethernet is a standardized technology for wireless networking, and it's one of the most commonly used computer networking technologies in offices, schools and similar environments. Some people also use Ethernet technology at home, especially since it can be faster and more reliable than Wi-Fi connections, which can be prone to interference in some environments.
Like most other modern networking technology, Ethernet divides data into discrete units, which its standards usually call frames. These frames include information about which computer needs to receive the data.
Ethernet is used within home or office networks, but other technologies are typically used to communicate past your internet modem with the rest of the world. For example, if you have internet service from your local cable company, your modem may translate data into the cable industry standard called DOCSIS.
Understanding Your Ethernet Controller
The Ethernet controller in your computer must be connected to your cable with an Ethernet cable. They resemble traditional landline phone cords, and you can buy them online or at many electronics and hardware stores or often get them from your internet service provider.
For the controller to work, you normally need to have software called an Ethernet chipset driver installed on your computer. This lets the computer talk to the circuitry on the Ethernet card. The driver software may come with the card, or you may be able to install it from the card manufacturer's website. In some cases, it may come preinstalled on your computer, especially if the card also came with the computer.
If you need to get a new Ethernet controller for your computer, make sure it's compatible with a card slot in your computer and that a driver is available for your operating system. If you're not comfortable installing it yourself, consider taking your computer to an expert for help. If you install the card incorrectly, you might damage the card or your computer.
Ethernet, Speed and Convenience
If there's an Ethernet controller in your computer, it will work with certain versions of the Ethernet protocol. When you connect a device to your network, it will communicate with other devices on the network to determine what speeds and other settings they can all operate under. This process, called auto-negotiation, will determine the speed of your connection, so if you wish your connection were speedier, you may want to upgrade the Ethernet cards in your network.
Ethernet can be speedier than Wi-Fi, since it isn't as prone to interference from other devices and networks. This comes at a potential cost of convenience, it does require physically running cables throughout your home or work environment and installing Ethernet cards in every device you intend to connect. Some equipment, like smart phones and smart TVs, can't easily be connected to an Ethernet network.
It can also be more secure than Wi-Fi depending on how it's set up, since someone needs to physically access the network to access data, even if they can manage to steal network passwords. Moving around with portable devices like laptops is naturally harder if they're only connected to Ethernet connections, so many environments will have both wired Ethernet and wireless connections available for people to use based on their needs.