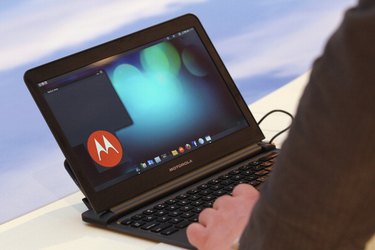 A laptop is a personal computer that is small enough to sit in a person's lap, and is designed for mobile uses. Also called notebooks, laptops are smaller, thinner and lighter than most desktop PCs, and as of 2011, many laptops included powerful capabilities that rivaled desktops. Desktop PCs generally still provided more computing power – faster processors and more memory – than similarly priced laptops, though the gap was shrinking. Laptops come in many sizes and are designed for numerous uses.
Background
Unlike desktop PCs which have several major components connected together with many wires -- including a mouse, keyboard and monitor -- a laptop has a built-in keyboard, display and pointer, which offers the advantage of being easily portable. Laptop users can also connect a mouse, separate keyboard, and second monitor to a laptop if they would like. Laptops fold shut when turned off for easy carrying, and most weigh less than 6 lbs. Typically, a laptop includes a battery of lithium-ion or other technology that allows the laptop to run at full power on battery alone for several hours. This allows laptop users to use their computers on a train, in a coffee shop, or even outdoors. Virtually all modern laptops have built in wireless connectivity.
Types
Laptops are built for many uses and budgets. For students who have a limited budget and need to carry their computer with them to class, ultraportable, lightweight laptops include a display of 13 inches or less, such as Apple's 13-inch MacBook, or Netbooks from many different brands. For the business user, there are larger, costlier laptops, such as the Lenovo ThinkPad or Dell Latitude. These are faster and more powerful, including displays of about 15 inches, faster processors and random access memory of between 2 gigabytes and 4 GB. Photographers, videographers and gamers need even more RAM and faster processors, with screens 17 inches or larger. A mainstream laptop for a typical home user usually costs less than $1,000, and includes a 15-inch screen, DVD burner, up to 4GB of RAM, and a hard drive of about 250 GB.
Upgradeability
A major downgrade for laptops among many users is the fact that there is limited opportunity to upgrade key components. Some laptops have a central processing unit that is soldered into the motherboard and are not replaceable. Many laptops allow the user to upgrade the amount of random access memory by accessing a compartment storing memory modules.
Laptops in Schools
Increasingly in 2011, K-12 schools were using laptop computers as a teaching resource, in many cases replacing textbooks. The major advantage of using laptops in the classroom included the fact that textbooks can be costly to replace when information is out of date, while laptops can access the most up-to-date information through e-books.