SPX files are a rare find on computers today. There are three kinds of files that may use the .SPX file extension. Audio files using the Speex audio compression format may use the .SPX extension. Another possibility is that it could be an old file associated with Microsoft Visual Fox Pro, used by software developers. If you are using a Mac computer, it could be a OS X system report file that is opened only with the Apple System Profiler.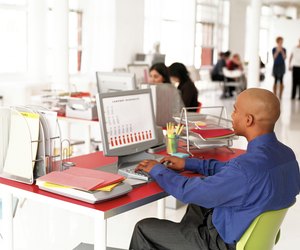 credit: Ablestock.com/AbleStock.com/Getty Images
Speex SPX Files
Speex is a free, open-source audio compression codec designed specifically for speech. These audio files can use the .spx extension. The Speex format is based on Code-Excited Linear Prediction and compresses audio to bitrates between 2 and 44 kilobits per second. Its features include noise suppression, acoustic echo cancellation, stereo encoding, packet loss concealment, voice activity detection and variable bitrate operation. Speex audio files are also available in WAV format. Most software programs do not support SPX audio files, however several audio file conversion utilities support the SPX format.
Visual FoxPro SPX Files
Microsoft Visual FoxPro is an xbase programming software used to create database applications, Web applications and desktop applications. This software did use the .spx file extension to identify compiled screen program files. This file extension is no longer used by the current version of Visual FoxPro, so unless you have used this software in the past, it is unlikely your SPX file is from this program.
Mac SPX Files
On Mac OS X computers, a file with the .SPX file extension could be associated with the Apple System Profiler. These SPX files are formatted with XML -- Extensible Markup Language -- and contain a text-based report on the hardware and software found on a Mac computer. These files are used by technicians for troubleshooting. The Apple System Profiler can be opened by clicking the "Apple" icon on the top-left of the screen, then selecting "About This Mac." Clicking the "More Info" button launches the System Profiler. Select "Open" from the File menu to open the SPX file.
Deleting an SPX File
If you are unable to open your SPX file and have determined it's not something you need, you should be able to safely delete it without any consequences. To be safe, you may want to wait a few days before emptying your computer's trash. There is also a chance that someone could have used the wrong file extension when saving the file. Right-click the file and select "Properties" to find out when the file was created and when it was last modified.