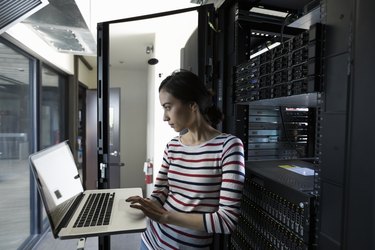 As networking and internet technology continue to evolve at a blistering pace, enterprise-level businesses are adopting new security paradigms to ensure that their data can be accessed, managed and – most importantly – protected at all times. The McAfee ePolicy Orchestrator (ePO) offers users a centralized software console that allows for comprehensive oversight of cloud and device-based applications and data. The ePO Agent is a software application installed on each system in the network that is being monitored. Using the ePO Agent, administrators can ensure complete security compliance and maintain overall system integrity.
Functions of the McAfee ePO Agent
The ePO Agent is the distributable element of the larger ePO system. Whereas the ePolicy Orchestrator itself manages a larger network of connected systems, the ePO Agent is responsible for building the connection between the system or device in question and the Orchestrator. After the ePO Agent establishes communication with the ePO server, a variety of commands and processes can be delivered to the device on which the Agent is installed.
Routine Tasks and Functions
On a routine basis, the ePO Agent polls the Orchestrator server to determine if any policy changes have been implemented or if software updates are available. Typically, the ePO Agent polls the Orchestrator at 60-minute intervals, although the Agent can be made to poll the Orchestrator at any point using what is known as an Agent Wake-up Call. The Orchestrator triggers the Wake-up Call and immediately forces any policy changes or updates that require immediate attention. This can be particularly useful in the event of an unexpected technical error or cyberattack. It is recommended that systems hosting the Agent be tested at periodic intervals to ensure the connectivity to the ePO server remains intact. Various other common security implementations, such as network firewalls, can inhibit the functionality of this tool if they are not managed correctly.
Global Administration Opportunities
Although the Orchestrator can be used to communicate directly with individual Agents, it is primarily intended to oversee and manage networks of Agent-driven systems. Policies can be transferred to all systems hosting the Agent at the touch of a button using the Orchestrator interface. This scalability is of immense value to the vast majority of enterprise-level clients. The Orchestrator system can be applied in a variety of scenarios, ranging from large corporations to health care networks and public universities. Using the automatic discovery feature, the ePO server can quickly comb through Agent-connected systems and prepare a workable interface for oversight teams.