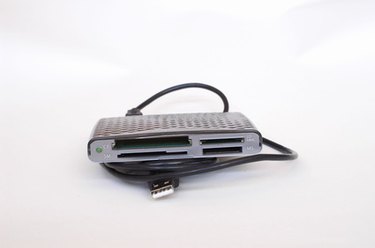 If you own a Realtek card reader, you are probably using it at USB 1.1 speed. If your computer has USB 2.0 ports, you have the option of taking advantage of higher-speed USB 2.0 transfers by upgrading your Realtek driver to a new version that supports USB 2.0.
USB Card Reader
A Realtek USB card reader allows you to read digital camera media cards via a USB port on your computer, and transfer image files or other data between the card and computer.
Benefits
The benefits of using a card reader over simply plugging your digital camera or MP3 player into your computer via cable are plenty. First off, you won't have to find your data transfer cable and fuss about plugging it in. Second, there is no need to drain the batteries of your camera or MP3 player unnecessarily, as using a card reader is bus powered by the computer. Lastly, a card reader can read many types of cards from all of your digital devices for convenient use.
Software
Realtek card reader software is a set of drivers that your Realtek-brand card reader uses to communicate with your computer. You should download the latest version of this software driver package to get the latest bug fixes and gain USB 2.0 transfer functionality. This will vastly improve the speed of your data transfers and result in less waiting time for you.