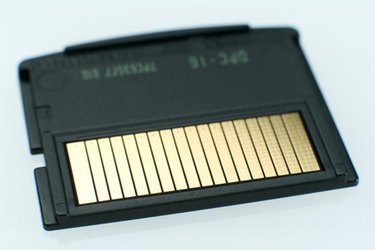 XD cards are flash memory cards that are used to store pictures in Fujifilm and Olympus digital cameras. They are smaller in size than SD cards, which are the most commonly-used memory cards in other brands of digital cameras. There are several ways a user can read an xD memory card. Currently, both Fujifilm and Olympus digital cameras are phasing out xD cards in favor of SD cards.
Step 1
Use a Fujifilm or Olympus camera to read your xD card. These are the only two cameras that use xD cards. Cameras that use SD cards will not be able to read the xD card.
Step 2
Use a memory card reader. These are relatively inexpensive devices you can find at electronics stores or on large retail websites. Some readers look like flash drives that work through a computer's USB port. Just slip the xD card into the other end of the memory reader and the computer should be able to read the card.
Other readers are small units that have multiple ports to allow users to read multiple types of cards, such as xD, SD and memory sticks.
Step 3
Employ an xD memory card adapter, which usually looks like an SD card that you slip your xD card into and then plug into a computer's memory card reader slot. These adapters are useful if your computer only has an SD slot.
Step 4
Read the xD card on a computer with a slot for xD cards. Some computers offer multiple memory card slots.
Step 5
Take your xD card to a store that has a digital camera picture processing machine. These machines usually have multiple slots to handle the different types of memory cards available today.
Step 6
Unlock your card if you are getting a locked card message. There is a small tab on the side of the xD card that you can slide up and down to unlock the card.