Vizio is a company that came on to the television scene in 2003 and has since garnered a good share of the flat-screen market. Vizio is a privately owned, U.S.-based company that manufacturers its televisions in electronics plants throughout China and much of Asia.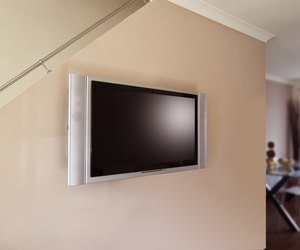 credit: Anthony Boulton/iStock/Getty Images
Vizio
Vizio's headquarters are located in Irvine, California. The company is best known for manufacturing and selling flat-screen television sets at affordable prices. The company has several investors, but one of its largest is Taiwan-based Amtran. The company's mission is to create reliable HDTVs (high-definition TVs) for the American population at a lower cost, thus undercutting big names such as Sharp and Sony in the HDTV market.
Manufacturing
The key to Vizio's success is production plants in Asia that offer cheaper labor and cheaper manufacturing costs. Vizio then passes on those cost reductions to consumers to create low-cost television price tags that still maintain a quality picture. The company first began working on televisions in 2002 when it helped Gateway produce a low-cost plasma television. Since then, the company has gone on to use the Asian market and Asian materials to produce low-cost plasma and flat-screen televisions.
Outsourcing
Outsourcing is not uncommon with television manufacturing, and Vizio took an approach similar to other television manufacturers with its decision to move its production to China and other Asian countries. Vizio televisions are produced in one of six plants that produce televisions throughout Asia.
Success
In 2007, Vizio became the best-selling television producer in North America. The company managed to outsell Sony, Sharp and others in the flat-screen and plasma television sector for that year. They produced and sold 600,000 flat-screen or plasma televisions in that year alone. They have since slowed but still maintain a comfortable portion of television sales in North America. As of 2014, Vizio had the second highest share of the United States smart TV and flat panel TV market with 24.4 per cent (just behind Samsung with 26.9 per cent).
Plasma Vs. LCD
Vizo withdrew from the low-cost plasma TV market in 2009 to focus on its range of LCD high-definition TV sets. The plasma line of televisions has since been completely removed from the line-up. Vizio's move to LCD reflects consumer preference for the longer-lasting and power-saving technology. According to the Kioskea technology news website, the life expectancy of an LCD/LED TV is between 4 to 10 years depending on usage and maintenance.