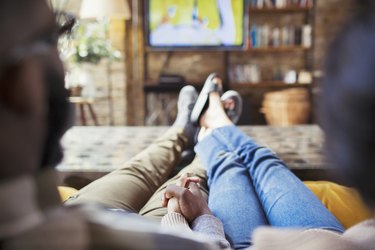 If you have a Vizio TV – whether it's one from the basic D-Series, the high-tech P-Series Quantum or any model in between – you may have heard that another company manufactures them. Vizio is an independent company that doesn't manufacture its own TVs. Instead, it partners with other companies to assemble its TVs.
In the past, Vizio televisions were largely made by AmTran Technology, a Taiwanese company that owns and operates several factories across Asia. The sets were manufactured in a range of different factories, but ultimately, these were predominantly owned by AmTran, and AmTran itself was paid by Vizio to perform the work. However, AmTram is no longer a partner of Vizio.
Most other companies in the same industry, such as Samsung and LG, make their TVs, but their costs tend to be higher as a result. The goal for Vizio was to make TVs more affordable for the average consumer, and the outsourcing of labor and production costs is a large part of how the company is able to do that. While you may prefer to buy from a company that assembles its own TVs, the costs tend to be higher than with companies like Vizio.
An affiliate of Foxconn also has a stake in the company and is involved in the manufacturing of the Vizio television sets. Some people think Vizio is manufactured by Sony, but it's not. Vizio and Sony are separate and competing companies.
Vizio is an independent company based in Irvine, California. The company was founded in 2002 by its chairman, chief executive and majority shareholder William Wang. The aim behind the formation of the company was to combat what Wang saw as widespread overpriced TVs on the U.S. market, which is why he decided to partner with Asian firms to handle the manufacturing. He funded the company with a home loan and investments from venture capitalists and started to succeed after landing a distribution contract with Costco.
From 2014 to April 2017, Vizio was the leading HDTV and sound bar brand in the U.S. These are the two main areas of focus for the brand, but like competitor Samsung, the company branched out into producing other electronics such as mobile phones and tablets in 2011. These areas haven't brought the company as much success as the televisions and sound bars, however.
In 2017, Vizio was scheduled to be sold to a Chinese firm called LeEco for $2 billion. However, Vizio pulled out of the proposed deal due to what it termed "regulatory headwinds" relating to the Chinese government's crackdown on foreign corporate investments.
Vizio Televisions: Affordable Options
There are five main lines of Vizio televisions on the market at present: the D-Series, E-Series, M-Series, P-Series and the most recent P-Series Quantum. Each of these series has different features and sizes and typically serves a different price point, with the D-Series and E-Series containing the most affordable sets.
The ​D-Series​ consists of the most affordable Vizio television sets. These range in size from 24 inches to 70 inches, and have prices ranging from $149.99 to $799.99. The feature set is more limited than on the other lines, with 4K Ultra HD and a high dynamic range being the major selling-points, compared to much more sophisticated systems on more expensive sets.
The ​E-Series​ is a step up from the D-Series, adding Dolby Vision HDR and Active Full Array, while still boasting 4K Ultra HD. The prices for this range run from $329.99 to $1,299.99, and they come in sizes from 43 to 75 inches. Vizio is known for smart TVs, and both the D-Series and E-Series sets feature the 2018 SmartCast OS, which means you can connect to devices such as Alexa and Google Assistant and install a huge range of apps directly onto your TV.
Vizio Televisions: Higher-End Options
The ​M-Series​ from Vizio includes a range of larger, more expensive and even more feature-packed televisions. These range from 55 to 70 inches and are priced at between $599.99 and $1,499.99. The features on these are roughly the same as those on the E-Series, except the Active Full Array has been improved to the Plus version, which helps with the depth of dark colors in particular.
​P-Series​ sets are similar to the M-Series, except they add Ultra Color Spectrum, which gives a set's pixels over one billion colors to work with – and further upgrade the Active Full Array for extra dark zones. Prices range from $649.99 to $1,799.99, with screen sizes from 55 to 75 inches.
Finally, the ​P-Series Quantum​ further improves the Active Full Array and makes use of Quantum Dot technology. Quantum dots generate a purer and brighter display of colors than is available on traditional TV sets. This TV has a 65-inch screen and costs $1,599.99. As with the more affordable TVs from Vizio, the higher-end units also feature the SmartCast OS.
As two of the most popular television brands in the industry, many people wonder how Samsung's options and Vizio's options compare to each other. In an in-depth comparison of Vizio vs. Samsung TVs, Samsung had the edge overall, despite higher prices on average and other benefits for Vizio televisions.
According to the comparison, Vizio beats out Samsung in a couple of areas: the number of ports for making connections on the TV and the price of the TVs. There are several areas where the two are tied, though: the display technology the sets use, the display resolution, and the physical size of the whole units. While Vizio televisions might not beat Samsung sets in many areas, there are still several benefits to Vizio units, and all of these come at a lower price than for Samsung sets.
Samsung has a definite edge in many places, though. The TVs have a better range of screen sizes available, the image and audio quality are higher, and the smart TV options from Samsung have a slight edge over Vizio's offerings. Ultimately, the difference between the two brands' offerings is small, and Vizio has been closing the gap substantially over the last decade.
Vizio might not always come out on top when compared with the best TV brands out there, but the company's sales figures and the favorable comparisons with other leading TV brands speak volumes for the quality of Vizio TV sets. For a more affordable price than many of the brands on the market, you get high-quality TVs with a great picture, clear sound, smart TV features and cutting-edge technologies such as quantum dots. While you can find good TVs from many brands, there is no doubt that Vizio is a good brand in its own right.