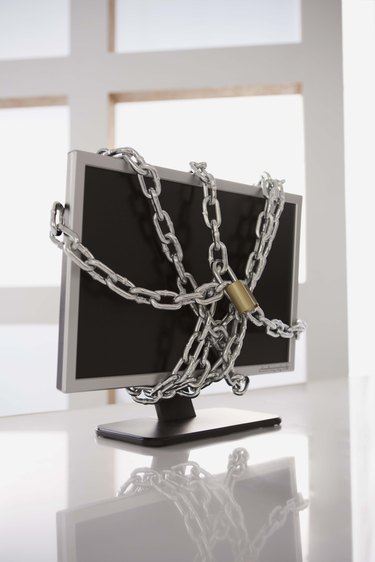 When you install a new monitor on your computer, or if a program on your computer changes your monitor settings, your computer may display an "Unsupported Mode" error. This error is usually on a completely blank screen, which does not allow you to view Windows normally for troubleshooting. You can fix this issue using Windows Safe Mode and by configuring your monitor settings. You can also set options in Windows that prevent users from accidentally choosing an unsupported mode.
Cause
Your computer provides a number of different resolution modes for your monitor. This allows you to change your monitor's display depending on the physical size and dimension of your screen. Sometimes, programs — especially games that use the 3D graphics card — may also change your monitor resolution. When you attempt to change the monitor to a resolution size that your computer's graphics card doesn't support, your computer will display the Unsupported Mode error.
Safe Mode Troubleshooting
You may not be able to resolve an Unsupported Mode error unless you boot to your computer's Safe Mode. Safe Mode may automatically change your monitor's resolution to the lowest default, which allows you to view and change your default monitor settings. Reboot your computer and repeatedly press the "F8" key until you can select a Safe Mode option. Once within Safe Mode, launch the Start menu and type "screen resolution" in the text box. You can then launch the screen resolution settings and change them in Safe Mode. Reboot to normal mode, which should retain the settings you used in Safe Mode and remove the Unsupported Mode error.
Graphics Card Drivers
Ensure that you have the newest graphic card drivers installed on your computer at all times. Updated drivers will support a larger variety of resolution sizes, preventing the Unsupported Mode error when playing games or other programs that may change your resolution. Navigate to the graphics card manufacturer's website, search for your graphics card model and download the newest driver files. Usually, you can double-click the file to install the drivers. Restart your computer if prompted, to complete the installation.
Hide Unsupported Modes
Windows may not always hide all the unsupported resolution modes in the resolution selection menu. To prevent a user from accidentally selecting an unsupported resolution, you can change the monitor settings to remove unsupported resolutions. Launch the Start menu and click "Control Panel." Select the "Display" option and choose "Adjust Resolution." Click "Advanced Settings" and navigate to the Monitor tab. Place a check in the box next to "Hide Modes That This Monitor Cannot Display" and save the changes.